How to Build Your List with Joint Ventures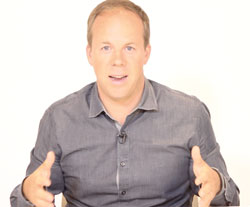 When it comes to building your email subscriber list with ideal prospects and customers, you may believe that you you've got to do it all on your own. You may leave it all to your own abilities and efforts and end up fighting an uphill battle by doing all of the work yourself.
Let me guess… do you often feel that way when it comes to list building? Well, I'm here to tell you that you don't have to do it alone… at least not anymore. There's so much help and support out there when it comes to building your list. And in this week's video strategy we're going to talk about using joint ventures to build your email subscriber list.
Find joint venture partners who already have a target audience that will resonate with your message. (Click here to tweet this.)
In my personal opinion, joint ventures are an excellent way to efficiently and effectively build your list with ideal prospects and leads – in a very short amount of time. Joint ventures are strategic relationships with other people or partnerships that you create – to mutually support each other's list building efforts.
Watch this week's video for my top three key strategies to keep in mind when establishing and building joint venture relationships. Doing this alone is not the only option. From our years of experience at Client Attraction with dozens and dozens of joint venture partnerships, it's been one of the biggest reasons we've been able to grow our email subscriber list to close to 75,000 people. And, now you can do the same with these 3 key strategies in mind.
Your Client Attraction Assignment
Who can you partner with when establishing joint venture relationships? Often times they are people you already have a relationship with and you have a mutual interest in helping and promoting them (and they do of you.)
Sit down and write out that list of 5 top potential JV partners and do the reach-out starting today. Make the connections.  You'll be happy you did when you start to see the results it has with your list building efforts!