An Interview with Fabienne Fredrickson
Founder and head teacher for The Client Attraction Business School™
1. Fabienne, how did you get into the business of teaching entrepreneurs how to get clients and make more money? Where did you learn this?
A defining moment in my life happened in late 1999. A few months before, I had quit my corporate job selling advertising space for a national magazine and had started a private nutrition practice out of my tiny apartment in New York City. I got clients right away, but not as many as I needed to pay the rent. I was floating both my business and my life on credit cards and most of them were maxed out. With few new prospects coming in, any hope of filling my practice looked bleak.
Going back to work for someone else after having been self-employed was just not an option for me, and after a dark night of the soul, I made a solemn commitment to immerse myself in absolutely everything that had to do with getting clients. I read every book on marketing and networking I could get my hands on. I took every course that was available. If I wanted to have more clients consistently, I knew I had to make myself an expert on how to get clients, because I never wanted to experience what it was like to not have enough.
Lo and behold, after a few bumpy months of difficult starts and stops, all my hard work paid off. Within 8 months, I had filled my nutrition practice to full capacity (30 clients) and money was coming in consistently.
During this process, I had an epiphany. The thing that I enjoyed MOST about having my own business was actually the marketing, not teaching clients how to cook brown rice or to eat more leafy greens. I realized that when marketing is done with authenticity, integrity and love, it not only works, but it feels good to both you and your prospects. It became the thing I looked forward to most in my business.
Soon, my nutrition colleagues heard about my success and asked, "Fabienne, how do you have 30 clients in less than a year and I have only 3? What am I doing wrong? Can you show me how you did it?" I loved it so much that I was happy to help. So, I'd give them two or three things to do over a period of two or three weeks and every time, that person called me back saying, "Thank you! I got a new client. This really works!" And eventually, they started hiring me for marketing consulting. Then, their colleagues hired me to help them with their marketing too. I started making money on the side, teaching people how to attract clients.
I loved it and I was hooked, so I eventually phased out my nutrition practice and officially opened my Client Attraction consulting business. I filled that one to capacity within a year too.
What I noticed during my journey of trying to "crack the code" on Client Attraction was that not everything people were teaching on marketing worked. Some things I tried did work, and when they did, I would put these things into an imaginary "This Works" box so that I remembered to do these things again and again.
I omitted What Didn't Work from my "This Works" process. Problem was, many things did not work and were either outdated or weren't meant for the solo-entrepreneur like me. I found that many "marketing gurus" and business coaches were teaching their theories on how to get clients (or what they learned from a book or a course they had taken) rather than what really worked in the field.
I also noticed that not everything I needed was available in one place. I had to go to one source for information on how to network effectively to get clients, while needing another resource for best practices on speaking to get clients, and yet another for creating a client attractive website, an elevator speech, a brochure, a referral system and so on, and on.
Why was all this information not available in ONE place? I couldn't find a step-by-step system I could use to get clients quickly and consistently, to always make good money; So I created it myself, never realizing at first that others might want it too.
I took this as my challenge and eventually turned my extensive "This Works" marketing process into The Client Attraction System® which, after many evolutions over 15 years of best practices, was perfected over the course of teaching this proven process to many thousands of students and naturally evolved into The Client Attraction Business School™.
2. I'm feeling isolated now that it's just me trying to grow my business on my own. I'm not getting as much traction in my business as I'd like and it's affecting my confidence. Is it just me, or do other entrepreneurs experience this too?
You're not alone, believe me. Over the course of the last 15 years, I've gotten to personally know and work directly with thousands upon thousands of entrepreneurs. What I'm now clear on is that entrepreneurs are born and not made. We are wired differently from the rest of the population, being strong "starters" who are often willing to take risks others aren't willing to take, but we are also easily distracted and therefore not strong "finishers."
We are also a breed of our own, often feeling "unemployable" and like we don't fit in with our families, friends or even society as a whole. Because of that, we often feel isolated and this makes it easy to give up.
What I've learned is that most entrepreneurs face similar situations: a lack of clarity on direction, working on too many things at once, an unclear marketing message, too many "good ideas" and not enough follow-through, inadequate growth and inconsistent cash-flow that sometimes turns into feast-or-famine and not knowing how to prioritize, which often creates self-doubt. Entrepreneurs are also plagued by not having enough structure and accountability, which means they don't take as much action as they could and therefore don't consistently make progress or finish what they start.
(I know… I've been there too.)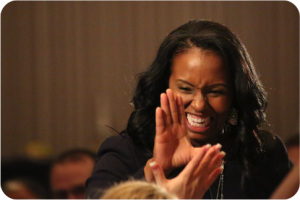 Meanwhile, our well-meaning friends and family say to us, "You know what to do, just do it!" or "Why don't you just go get a real job." Problem is, they don't know what it's like to be us because they're not wired like us. We are the black sheep in a sea of white sheep, wondering why it's not happening fast enough.
And if you are someone like us, you're probably inundated with a really long to-do list. You may feel like you're driving with one foot on the gas and one foot on the brake, and sometimes, you think all this "trying to grow my business" stuff doesn't seem all that worth it, not when it's so difficult to get better and more consistent results.
This is normal. And that's where we come in.
3. OK, good. So, tell me, what is The Client Attraction Business School™?
The Client Attraction Business School is not your father's business school. It was created for entrepreneurs by entrepreneurs, for how you're wired. It is unprecedented in the education space.
What makes us different from any other entrepreneurial solution out there?
Many of our colleagues in the "Business Growth" education space mistakenly believe that simply teaching the necessary marketing strategies will continually grow an entrepreneur's business. The reality is that so much more is required for lasting and continually increasing success.
We entrepreneurs need a different kind of support and environment to get results, one that's not found in the "Muggle World," as I call it.
On the surface, CABS is a business school that teaches entrepreneurs how to get clients, make more money and multiply their business. But under the surface, it is so much more.
Here's what you'll receive as soon as you enroll:
• A step-by-step Client Attraction plan of action that's simple to follow
• The "Exactly How-To" training that reduces the marketing learning curve
• Proven marketing materials you can swipe and model right away
• Coaching to get you unstuck when you need it most
• The mindset hacks to play a much bigger game
• A "No Excuses Approach" tribe of advancing entrepreneurs
• A community that takes a stand for you with a mixture of unconditional support and the "tough love" accountability you crave
• Metaphysical teachings that speed up the process
• Processes to bypass fears and negative beliefs
• A positive atmosphere to keep you moving forward and going strong
• A strong focus on ROI and measurable results
What you'll experience:
• High level confidence that shatters old paradigms
• Greater results, in less time than you would experience on your own
• Pleasant income growth, year after year
• Capability and knowing you can do anything
• A sense that you are no longer alone doing this "thing" called entrepreneurship
• Feelings of joy, inclusion and acceptance, like never before
Here's how CABS has broken the mold of business training and why it works so well for creating new and lasting results:
1. A STEP-BY-STEP CURRICULUM OF BEST PRACTICES
Each track of the business school provides its own carefully planned curriculum with specific topics covering what you need to implement most in your particular stage of business; it's not just "what to do first" but "exactly how to do it."
2. COACHING TO KEEP YOU ON TRACK AND MOVING FORWARD
You'll get direct access to a Client Attraction Coach™ who will lovingly work with you to keep you on track and accountable to your goals and assignments.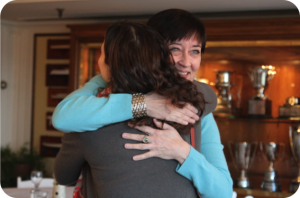 3. A COMMUNITY YOU'LL COME TO TREASURE
Our Client Attraction community provides you with the heart-to-heart connections that you'll come to absolutely treasure. Lean on this tribe for resources, to celebrate successes, brainstorming, connecting, networking and a soft place to land anytime you need it.
4. ACCOUNTABILITY LIKE YOU'VE NEVER EXPERIENCED IT BEFORE
At each live meeting (or on the Facebook group), you'll select a new accountability buddy for regular check-ins. This is in addition to the accountability prompts you'll receive to help you focus on priorities each day.
5. MINDSET PRINCIPLES THAT KEEP YOU FEELING CONFIDENT
Your success is directly correlated to the state of your mindset. Our mindset teachings will provide you with the exact steps you need to break through self-imposed barriers that stop you from playing a bigger game. You'll get the tools you need to increase your confidence, expand your vision of your business and gain the courage you need to take quantum leaps in your business.
6. LOVE (YES, UNCONDITIONAL LOVE)
We believe that every person in the world wants to feel significant, heard and unconditionally loved. CABS provides a sacred space in which our students feel appreciated, celebrated and championed for who they really are.
7. A SPRINKLING OF SPIRITUALITY, METAPHYSICS AND LAW OF ATTRACTION
We take a non-denominational, spiritual approach to success in business with a focus on multiplying results using metaphysics, the Law of Attraction and spiritual principles. (This is not the core of the curriculum or coaching, yet we sprinkle it in throughout because the results of applying this layer are indisputable.)
8. AFFORDABLE TUITION AND FINANCIAL AID (IF YOU NEED IT)
Other business schools can cost up to $60,000 per year, requiring you to take out expensive loans and graduate school with staggering debt. Sadly, many students have reported that despite paying hundreds of thousands in tuition at others schools, they still don't know how to attract clients. That's not the case here. Not only is the tuition highly affordable, many students report that they were able to pay off their tuition within a matter of months because the education pays for itself in the form of new clients.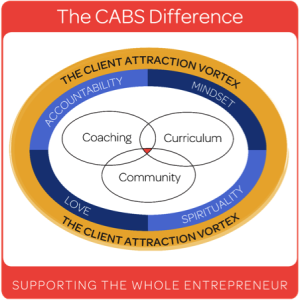 9. YOU CAN START RIGHT AWAY
Other traditional business schools require that you start the curriculum on a certain date, sometimes having to wait months to begin implementing and seeing the results you want now. Our program starts when you start. As soon as you enroll, you are connected with your peers in the private Facebook group, get access to your curriculum classes, schedule your first call with your coach and register for your first meeting. You can start getting results right away.
10. THE CLIENT ATTRACTION VORTEX
This is the unique, intangible yet very real, high-vibrational energy that comes as a result of a large number of spiritually-open CABS students gathering with gratitude to celebrate their successes. The vortex allows for instant manifestations that magnetically attract new clients, opportunities and abundance. (You've got to experience it to believe it!)
The only place in the world where advancing entrepreneurs have access to this is The Client Attraction Business School. This is where you happily defy the odds because you get what you want, but you also get what you really need.
4. Tell me about the curriculum and program components…
In the Growth Track, you will receive:
• 24 bi-weekly marketing classes
• Three 2-day live retreats (in person or virtual)
• 12 private calls with your Client Attraction Coach™
• The Client Attraction System® training manual
• Three virtual "Deep Dive" half-day intensive trainings
• Admission to the 3-Day Mindset Retreat
• Private, student-only Facebook community
• Daily accountability buddy and email prompts
• Online video access to past live meetings
• Masterminding with your group every 120 days
• Strategy Planning Day each year
In the Leverage Track, you will receive:
• 24 bi-weekly classes on scaling your business
• Four 2-day live retreats (in person)
• Weekly coaching and Q&A
• 60-minute private strategy call with Fabienne
• Website and social media makeover with Derek
• The Client Attraction System® training manual
• Private, student-only Facebook community
• Daily accountability buddy and email prompts
• Masterminding with your group every 90 days
• Admission to the 3-Day Mindset Retreat
• Strategy Planning Day each year
• Access to the entire Growth Track program and events (doesn't include calls with the coach)
5. Who are the students within CABS, exactly?
The students who get the best results already have traction in their existing business, even if they're not yet making as much money as they'd like to make. Our students are typically independent professionals who are really good at what they do, but have never been taught exactly how to attract clients or set up systems so they ALWAYS attract clients.
We work primarily with service-based entrepreneurs (B2C or B2B) in all industries that thrive on new clients or customers. Our students are usually service businesses, but there are also many product-based businesses, online marketers and info-marketers, brick-and-mortar, retail, multi-level, financial services, non-profits, etc.
6. What type of entrepreneur gets the best results from enrolling in CABS?
Being a high-achieving go-getter myself, I'm known to work best with people who are super-ready to get going and just want to know exactly what to do to get clients and make more money. If you are one too, you will thrive here. The Client Attraction Business School™ was created for people who are committed to growing their existing business.
On a more personal level, our students are exceptional human beings.
The common denominator between all of our students is that they are open-minded, spiritually open, growth-oriented people who are here to do good things in the world. By joining the CABS community, you are joining an unconditionally caring, non-judgmental group of people who are embracing of all cultures, religions, orientations and abilities.
Some CABS students are enthusiastic go-getters, while some are more reserved and quiet. Either way, all CABS students are smart, committed to personal growth and coachable. They are also fun, loving, positive thinkers who value friendship and are supportive of and generous with others, knowing that a rising tide lifts all boats.
Our students take personal responsibility for their results. They have a big vision and are willing and able to do the work that's required, understanding that continuous growth is a journey, rather than a quick fix.
If this describes you, you'll not only thrive here, you'll fit right in.
7. Is there a selection process? Do you always accept anyone into CABS?
Yes, there is indeed a selection process. Although we consider ourselves an "inclusive" school, we do not accept everyone who applies.
Please know that we are very selective about our students and we cherry-pick our prospective candidates, choosing to (gently) turn away people who aren't suited for the Business School and won't get the results for which they've signed up. You are not ready for CABS if you fit one or more of the following three criteria:
1. You only have a vague idea, but no semblance of a business yet: If you simply want to be self-employed but have no clue what kind of business you want to build, it's probably not the right time for you yet, as you'd get stuck, not knowing how to move forward. We look for students who know what they want to do, who have a couple of paid clients at minimum. You must already have a business* and some kind of traction, and you must be making some money in this business, even if it's not as much as you'd like. (It wouldn't be fair to you otherwise.)
*The only exception we make to this rule is if you have a proven track record of having built a successful business and you have a solid idea of what your business is going to be, with a strong background in this field, and you can show us that, although you may not have clients yet, you are super clear and ready to move forward with our instruction and coaching. In this case, we will likely make an exception.
2. You are experiencing deep financial hardship or bankruptcy: The Client Attraction Business School is also not well-suited for those who have absolutely no money coming in and are financially desperate, barely scraping pennies together to pay the rent. It's been my experience that people in financial crisis do not do the work necessary to get results (probably because their focus is on next month's rent check or mortgage payment, rather than on taking serious action).
3. You are a chronic whiner and skeptic: Another type of entrepreneur we won't work with (without exception) is the consistent whiner or the chronic skeptic who constantly questions the program, as well as individuals who make excuses for not getting their assignments done or challenge every aspect of the program and blame others for not getting results. If you are one of these people, we will gently and respectfully ask that you not apply, and I hope you understand why.
We are an exceedingly positive group of people who take personal responsibility for our own lives and results. Negative people who constantly complain or blame others don't usually fit in here. If this describes you, we will probably not work well together and we wouldn't want you to waste your time or money. Is that fair?
8. OK, so, what happens when I enroll in CABS? What's my first step?
As you are now probably realizing, this is truly a full support program, designed to get you results. As soon as you enroll in CABS, you will be invited to take the following steps:
Step 1: Log into the Online Student Center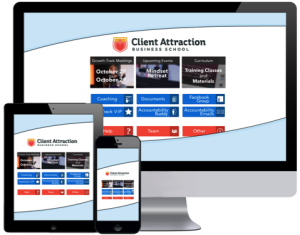 Via email, you'll receive your login information to your online student center. This is where you'll get access to your account, curriculum, schedule and lots of other helpful information. Login and familiarize yourself with it. While you're there, you can view your live meeting schedule and weekly coaching call schedule (Leverage). Please add those dates to your calendar. (You will also find live meeting dates in your Confirmation Letter.)
Step 2: Register for your first meeting (in person or via livestream)
Via the online student center, you'll see details about your first live meeting. Please follow the link to register and make attending this and future meetings a priority, as they are a cornerstone of your experience within The Client Attraction Business School™. This is a great opportunity to meet your fellow students and dive deep into your program.
Step 3: Complete your Student Questionnaire and schedule your initial call with your Coach
You will also have access to your student questionnaire in the online student center. Please complete it in its entirety (be descriptive) and submit it to us. Once submitted, you'll receive an email confirmation, including a copy of your answers. As soon as we receive it, you'll be invited to schedule your monthly coaching calls with your very own Client Attraction Coach™.
Step 4: Join the private Facebook Group
To join the Facebook Group, please click the button in the online student center and "request access." Once approved, introduce yourself on the forum. This will be a great place for you to collaborate and network with your fellow CABS students. You'll also use the Facebook group to find an Accountability Buddy (AB). This is someone you'll enjoy connecting with each day for 5-10 minutes to keep each other accountable so you both stay on track (I will explain this more at your first live meeting).
Step 5: Take the first class in the curriculum
Start your program right away by diving into the content-rich classes. Be sure to make time for (and complete) each assignment of each class in The Client Attraction Business School™ as soon as it is available to you in the online student center. You'll receive an email notification each time a new class is available to you, about every two weeks. Implement! These classes are an important component of your success and will give you the next steps and best practices you need to grow to the next level in your business and income.
9. How quickly can I expect to see results? What's expected of me?
How fast you enjoy results depends on how long you've been in business, how much you put into the curriculum and coaching we give you, and how diligently you implement the coaching. That said, virtually all students see results within the first few months in the form of new clients or new prospects, clients who stay longer, more revenue, more prospects turning into paying clients and more referrals from these clients. Some even see their tuition investment back within weeks. Again, this depends on how established your business is and how willing you are to do the work as it is given to you.
The more quickly you implement, the more quickly you get results. In fact, here's how you can speed up your results:
1. Show up BIG: watch all of your curriculum modules, do all of the assignments as they are given to you, prepare and show up for every single call with your Client Attraction Coach, attend every live meeting and Deep Dive Intensive, speak to your Accountability Buddy (AB) daily and use your Daily Accountability prompts. Do this as if your income and the success of your business depend on it (they do).
2. Do all of your assignments and fieldwork.
3. Make your coursework a priority by putting a "pause button" on other less important things currently in your life.
4. Be completely focused on your assignments by scheduling daily or weekly appointments with yourself to do the assignments given to you (they result in new clients, so this is important).
5. Schedule your 5-minute chat with your Accountability Buddy in your calendar and make this a non-negotiable appointment.
6. Do the same with your Client Attraction Coach. Make your coaching calls an utmost priority.
7. Show up BIG in this program, even if that feels outside of your comfort zone.
8. Understand that it's not a "quick fix." It's not a magic pill and it will likely take months to plant all the seeds and for those seeds to grow into the fruit that you can enjoy. Filling your practice is a journey.
9. Be patient and stay in faith. This is critical.
That is how you can fill your business to full practice capacity within the next 12-24 months, as other students have done.
All CABS students who have diligently applied every lesson of the curriculum have successfully grown their businesses in much less time than they would have on their own and have made more money than they've ever made doing what they love to do. This requires work and focus–there's no question about that. If people tell you that successful Client Attraction requires no work, please don't believe them. You have to be willing to follow a step-by-step process, do everything it says, model the systems and keep at it. There is no such thing as a magic pill when it comes to making more money in your business. You have to take responsibility for implementing. But when you do, it works every time.
10. Is this a costly education or will I be able to recover the investment I put into the tuition?
While most business schools charge from $40,000 to $60,000 per year (and don't provide any of the coaching, community, mindset or daily accountability that are required for accelerated growth), the Growth Track of the Business School starts at only $8,000.
This education pays for itself in the form of new clients you receive as a result of implementing the curriculum fully. Students are excited to report that they were able to cover their tuition often with a few new clients within the first year, and many times within a few months.
To calculate how quickly you will be able to recover your tuition, ask yourself what one new client is worth to you in terms of revenue. Then, take the tuition amount and divide it by this number. You will know how many clients it will take for you to recover your tuition. For many of our students, this represents only a handful of new clients. (This is only taking into account your current business model. We'll eventually help you create opportunities to expand your existing model and earn money more quickly.)
That's what you're investing in: results, more revenue, more profit and more clients, not just more "information."
Best of all, the information and skills you learn within The Client Attraction Business School™ will net you 100 times what you invest in the next 10 to 20 years…something to think over.
11. Where do the live meetings take place?
All live meetings take place in Stamford, Connecticut (just outside New York City), where The Client Attraction Business School™ is located. The Growth Track meetings are held at a beautiful hotel in Stamford where we have negotiated discounted room rates. The Leverage Track retreats are held at the Stamford Yacht Club, overlooking the beautiful Long Island Sound.
Stamford is conveniently located near five New York City airports (LaGuardia, JFK, Newark, Westchester – White Plains and Hartford) and provides convenient access via Amtrak and the Metro-North commuter railroad. (The train station is a five-minute drive from our meeting locations.)
12. Travel is sometimes difficult for me. Does CABS require that I attend classes in-person or do you offer some sort of distance learning?
With the help of today's technology, o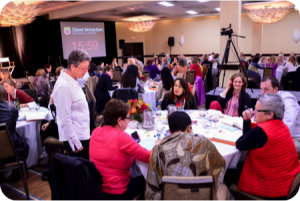 ur students (from nearly all 50 states and more than 26 countries worldwide) are able to fully receive the CABS benefits without ever getting on a plane. Although there is undeniable magic in getting together in person several times a year and there's a lot to be said for face-to-face interaction, networking, being in "the vortex" and getting in-person access and support from your coaches and peers, we realize that it's not always possible to attend CABS classes in person, especially if you live outside of the United States.
That's why the Business School provides an incredibly inclusive distance-learning environment to give you the option and flexibility to learn from home, should you not have a choice, while giving you the necessary community to fuel your connection and accountability.
• Online modules. Your curriculum modules are located in the online Student Center, so you can experience your classes from the comfort of your home, your office or while on the go.
• Over-the-phone coaching. Your coaching is done over the phone (our coaches are located both in the United States and internationally, making it more convenient for you to connect).
• Livestreamed events. In-person events are streamed live by video, so you can participate from the comfort of your own home. All you need is your computer and an Internet connection. All handouts and worksheets are provided online in real time, so you feel like you are in the room with us. In addition, a chat feature is included for you to communicate with the other "livestreamers," and virtual masterminds are arranged, so you never feel alone.
• Recordings of all events. All of these in-person events are recorded. In case you miss anything, you can simply watch it later.
• A close-knit, loving community, available 24/7. With our private Facebook group, you always have real-time access to all your CABS peers to ask questions, request resources, get feedback on your assignments, share a big win or have a soft place to land if you are feeling challenged.
You may live thousands of miles away, and yet with this arrangement, you never feel alone. Our students find this to be priceless.
(The only in-person CABS meetings that are not livestreamed are the quarterly Leverage Track meetings. These require in-person attendance.)
13. The Business School sounds great. Do you recommend that I wait until I implement everything I'm currently working on before I get started, or would it be better to do this now with your support? What are your thoughts about that?
It has been my experience, from working closely with thousands and thousands of business owners over the years, that when they are left to their own devices, few can successfully implement on their own. Why? Because entrepreneurs are people who are strong "starters," eager to begin new things, but are easily distracted and therefore, not strong "finishers."
On your own, you may implement some things, but not as fast as you would with our structure, processes and daily accountability. With the support of strong coaches giving you step-by-step guidance, getting your questions answered within your community, getting the clarity that gets you unstuck, with daily accountability and the unconditional support of a structured environment of peers who care about you, your implementation increases dramatically.
Without it, as you know, you tend to go back to your old ways of doing things, slowing down your progress and unnecessarily delaying the results you want now.
My mantra: Why unnecessarily delay the results you want now? Start today.
14. I know I belong in The Client Attraction Business School but I'm nervous about investing that kind of money into the tuition right now…
When any opportunity for growth is presented to you, it's important to evaluate it based on the value and specific results you will receive from it, not from what it "costs." When looking at opportunities for investing in yourself, we recommend asking yourself, "If I implement everything that is presented to me in the program, using the step-by-step curriculum, expert coaching, examples, support and accountability that are built in, is it likely that I will eventually make back my investment back in the program in the next 12-36 months?" If the answer is "yes" then indeed, it is a very good investment.
Many students are happy to report that education from the Business School pays for itself in the form of new clients, with some students making back their investment within the curriculum year, sometimes within months. The structured environment, proven curriculum and coaching ensure that you take action consistently. This results in new clients that essentially pay for the tuition.
Obviously, if this investment (even at the installment level) is going to bring financial hardship to you and your family, then you may not be ready. But realize that if it is within your comfortable grasp, even a bit of a stretch, investing in yourself is the best investment there is. You get results that pay for the program, and you use the learning for the rest of your career.
15. I want to enroll and I know this is what will help me get the results I've been looking to experience for years, but I'm not so sure my spouse will be OK with the tuition investment. How do I get my spouse to support me in this decision?
You can direct him or her to www.ClientAttractionSpouse.com to view a video message we created just for your spouse. The video speaks to your partner about the crucial role they play in the growth of your business by supporting you. Without their partners' support, many entrepreneurs experience self-doubt and a lack of confidence. This video walks them through this, as well as the mutual benefit it can provide for the partnership when they give you the go-ahead and even become involved with you in the Business School.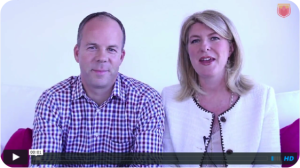 In our experience, spouses who aren't "in the room" when this education is first being presented don't always immediately see the value in the investment. Typically, the spouse is skeptical and wants to be reassured that this isn't just another "bright shiny object" for the entrepreneur, but rather something that is going to produce real results and provide a substantial return on investment. Often they are wired differently than we entrepreneurs are and don't understand that we entrepreneurs need a different kind of support, structure and accountability to get things done consistently.
Their heart is usually in the right place, trying to protect you, but they may not yet realize that the equivalent of a Bachelor's Degree in marketing is crucial to becoming a successful entrepreneur.
We honor that healthy level of skepticism. When presenting your spouse the opportunity of enrolling in The Client Attraction Business School™, it's important that you share with your spouse:
1) What the program specifically entails. Have them read what's included in the program and syllabus/curriculum modules.
2) What solutions it provides. In the Growth Track, the focus is on setting up the right marketing systems so you get clients quickly and consistently and make more money. Once you've graduated from the Growth Track, the advanced Leverage Track curriculum and coaching are focused on leveraging your marketing, scaling your business models, online presence and "cloning" you through team, systems and technology so you can work with more clients and make even more money, eventually working less.
3) What makes it different from other programs you've experienced. Explain that you don't just need more information, but you need the structure, clarity, coaching, mindset and accountability provided within CABS to implement faster than you are currently implementing on your own.
4) Success stories from others who have gone through it, implemented the concepts and who stay in the program because they get results. Have them read the countless student testimonials and view all the video testimonials on www.ClientAttractionSpouse.com and www.ClientAttractionBusinessSchool.com.
5) Your commitment level to make this work like never before, with the help of your Client Attraction Coach, your Accountability Buddy, the daily accountability prompts and a tribe of committed entrepreneurs who will not let you hide.
6) Your desire for their involvement in your business growth, by having them support you around this decision, and perhaps by having them join you in watching the modules, videos or livestream events.
Please also let your spouse know that they are invited to attend all the meetings for a small yearly administrative fee. This is optional, but we recommend it as we feel that two people on the same page, implementing together is better than one.
Your spouse simply wants the best for you. In helping you make the decision to invest in CABS, they are looking for your commitment to the process and your conviction that this is what you really need. When you communicate the fact that you'll work the plan once you enroll and ask for their encouragement and full support, you will get it. Remember, you must have conviction. Then, you must do the work to earn their trust around this.
16. OK, this sounds like exactly what I need. I've got a couple more questions but then I'm ready to enroll. How do we proceed?
Good, sounds like you're ready to be pulled into your bigger future! Click the red "Talk to a Coach" button below to schedule your call with one of our caring Enrollment Coaches.