About The Client Attraction Business School™
This is Not Your Father's Business School
The Client Attraction Business School™ is where entrepreneurs come to play a bigger game—in business and in life. With the help of today's technology, we welcome business owners from all over the globe. We provide an unparalleled entrepreneurial education and experience designed to accelerate your business growth to the next level by attracting more clients, making more money and multiplying your business with authenticity, integrity and love.
What Sets Us Apart
1. CURRICULUM
Each track of the business school provides its own carefully planned curriculum with specific topics covering what you need to implement in that particular stage of your business.
2. COACHING
You'll get direct access to a Client Attraction Coach who will lovingly work with you to keep you on track and accountable to your goals and assignments.
3. COMMUNITY
Our Client Attraction community provides you with the heart-to-heart connections that you'll come to absolutely treasure. Lean on this tribe for resources, to celebrate successes, brainstorming, connecting, networking and a soft place to land if you need it temporarily.
4. ACCOUNTABILITY
Each quarter, you'll select a new accountability buddy for regular check-ins. This is in addition to the accountability prompts you'll receive to help you focus on priorities each day.
5. MINDSET
Your success is directly correlated to the state of your mindset. Our mindset teachings will provide you with the exact steps you need to break through self-imposed barriers that stop you from playing a bigger game. You'll get the tools you need to increase your confidence, expand your vision of your business, and gain the courage you need to take quantum leaps in your business.
6.  LOVE (YES, UNCONDITIONAL LOVE)
We believe that every person in the world wants to feel significant, heard and unconditionally loved. CABS provides a sacred space in which our students feel appreciated, celebrated and championed for who they are.
7. SPIRITUALITY
We take a non-denominational, spiritual approach to success in business with a focus on multiplying results using metaphysics, the Law of Attraction and spiritual principles. (This is not the core of the curriculum or coaching, yet we sprinkle it in throughout because the results of applying this layer are indisputable.)
8. AFFORDABLE TUITION
Other business schools can cost up to $40,000 a year, requiring you to take out expensive loans and graduate school with staggering debt. Sadly, many students have reported that despite paying hundreds of thousands in tuition at others schools, they still don't know how to attract clients. That's not the case here. Not only is the tuition highly affordable, but many students report that they were able to pay off their tuition within a matter of months because the education pays for itself in the form of new clients.
9. IMMEDIATE START
Other traditional business schools require that you start the curriculum on a certain date, sometimes having to wait months to begin implementing and seeing the results you want now. Our program starts when you start. As soon as you enroll, you are connected with your peers in the private Facebook group, get access to your curriculum classes, schedule your first call with your small business coach and register for your first meeting. You can start getting results right away.
10. THE CLIENT ATTRACTION VORTEX
This is the unique, intangible yet very real, high-vibrational energy that comes as a result of a large number of spiritually-open CABS students gathering with gratitude to celebrate their successes. The vortex allows for instant manifestations that magnetically attract new clients, opportunities and abundance. (You've got to experience it to believe it!)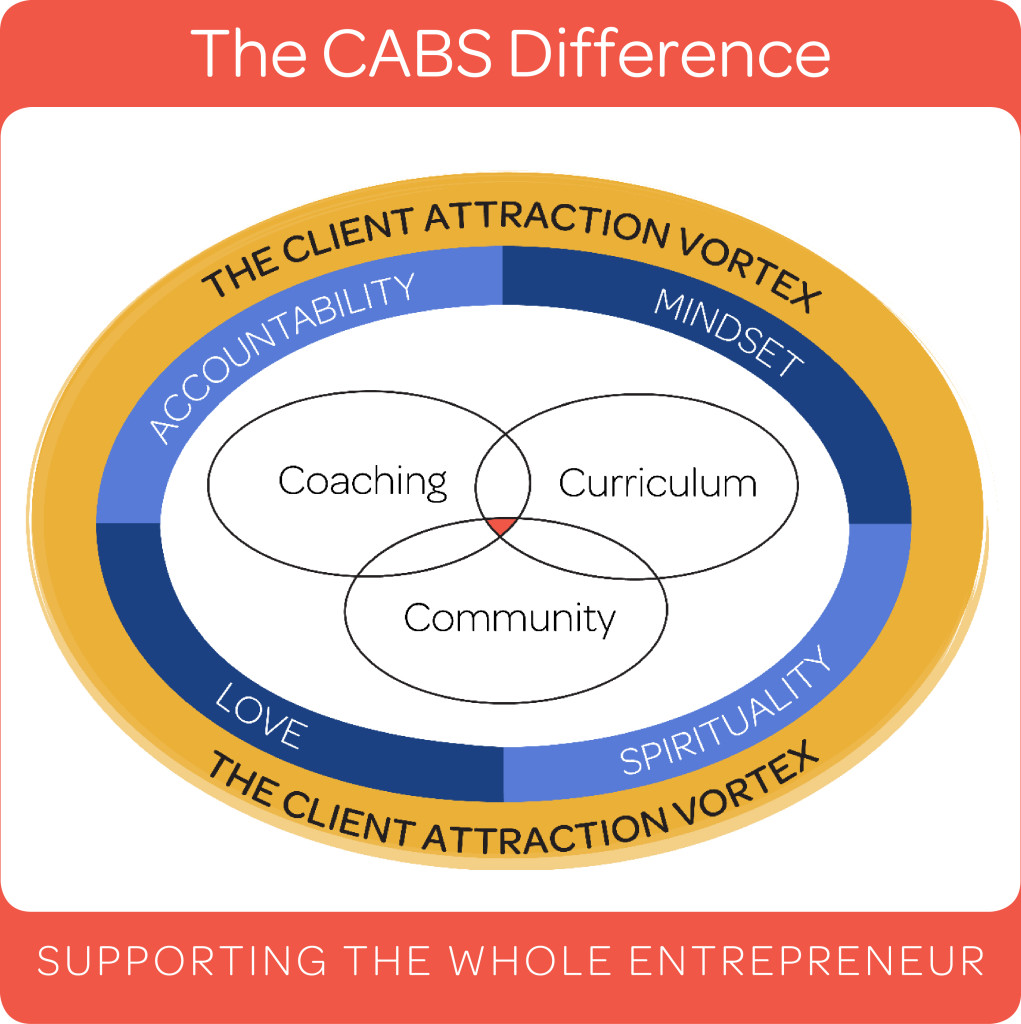 It Really Works!
The result of our work is an approach to marketing that, over time and with your dedication, works consistently to attract all the clients you need. (See Student Success Stories →)