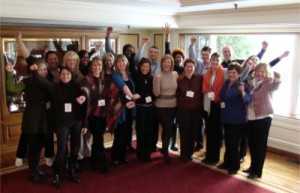 Last Thursday, Connecticut and much of the Northeast was hit with yet another HUGE snowstorm. I was all set to host my Bonus Day students at the Stamford Yacht Club for a full day of client attraction breakthroughs. Given the terrible weather conditions though, I was unsure if anyone would even make it. But one by one they began to show up – despite the main highway being shut down, despite the trains suspending service, despite the fact that there were no taxis running, and despite all of the delayed and cancelled flights. Twenty committed and determined entrepreneurs—from as far away as California—braved the elements, shoveled their driveways at 5am and overcame obstacles to get here to spend the day with me. Is that taking a No-Excuses Approach, or what?
And what a day it was! We settled in by the fire for a full day of goal setting, marketing pies, marketing sequences, ideas for leveraging their businesses and most importantly—big visions. Throughout, the theme that developed can best be described with my favorite quote from Rev. Michael Beckwith I often refer to: "God doesn't call the qualified. He qualifies the called who say yes." And when we hugged good-bye at the end of the day, I knew in my heart that their businesses (and lives) will never be the same.
How about you? Are you ready to start making the necessary changes in your business and make this year your best year yet? I have the perfect place for you to start and that's with the F.R.E.E. training call I'm hosting Wednesday, February 9th, where I'm going to reveal: "The Client Attraction Secrets: How You Can Easily, Consistently And Authentically Get All The Ideal, High-Paying Clients You Want, Close The Sale 97% of The Time And Fill Your Pipeline to Capacity So You Never Have To Worry About Getting (Or Keeping) Clients Again"
This 75-minute TRAINING call (HINT: high-content, no fluff) is what you need to finally end your frustration and get all the clients you'll ever need, easily and authentically. Watch my video message with details on registering here.
Oh, before I forget… I feel it's so important to your business that you join me for this call on February 9th that I'm even going to give you a gift, just for registering. It's my free-checklist of the "151 Ways to Attract All the Clients You Need" and you get instant access as soon as you sign up for my training call.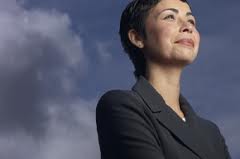 QUOTE: "Substantial value is created when the client achieves more than they expected. One of the best ways to ensure the client achieves more than they expect is to ask more of them than they expected you to." – Thomas Leonard, founder of Coachville
My translation: don't be wimpy with your clients! One of the most interesting shifts I've seen in my Client Attraction coaching practice and Masterminds over the last 11 years is that clients are seeing infinitely better results than at the beginning, when I first started.
Yeah, yeah, I thought the same thing you're thinking now. At first, I thought, "Well, duh, that's normal, I know more than I did a few years ago and I'm getting better and better at what I do." That's a logical thought, but over the last few years, I've also been doing something drastically different: I've been expecting a LOT more out of my clients.
Now, you may have heard me say I cherry-pick my clients, and I don't work with someone who's not deadly serious about doing what it takes to get clients. Frankly, I don't really have as much patience for people who aren't serious or committed (sorry, it sounds harsh, but it's just not as much fun).
What I'm talking about today is a different twist on the same concept. This is about EXPECTING more of each and every one of them, knowing that when they push themselves just a little bit harder to reach their goals, they usually exceed them, especially with me right behind them, giving them just the resources they need and cheering them on.
A client bcc'd me on an email to her friend a while back, saying "Fabienne will give you a lot of work and expect a lot from you. But the thing is, she'll also give you all the resources, letter examples, scripts you'll need to get it done and she will cheer you on when you do. It's simple, but it's not easy, and it works. You should talk to her."
At first, I thought, "Oh great, this prospective client will NEVER want to work with me, thinking it's going to be too hard!" But the more I thought about it, the more I was happy she'd written that. YUP. I do expect a lot out of my clients. Hard work, focus, dedication, and my all-time favorite, a no-excuses approach to doing what it'll take to get clients, quickly, consistently and for the long haul. And to get really extraordinary results (see my client testimonials), I expect more of them.
So when I coach my Winners Academy clients on how to manage their OWN clients, I've been telling them recently to ask MORE of their clients, expect more and this will translate into more clients for them.
It doesn't matter if you're a therapist, a financial planner, a mortgage broker, a coach, acupuncturist, consultant, or nutritionist, it's time for you to start asking more and expecting more of each one of your clients. Expecting more of them will have them take YOU more seriously, most importantly, they'll take themselves more seriously, they'll invest in themselves more, and they'll do what it takes to get even more results than they originally came in for. That creates a raving fan.
Hey, just a caveat here: I too don't always get to ALL the work I've promised my coach, when I work with one, to move my business forward. We all get sidetracked by life or a too-fast-momentum upfront (at least I do). I like knowing that the person supports me to think big and to act accordingly.
So, you don't want to beat your clients up if they don't get everything done in the time they first committed to. That's not the point we're talking about here and it defeats the purpose of championing them. Instead, it's about caring for them enough to want more for them than they want for themselves. In turn, you'll get more referrals and more clients out of the deal, so it's a win-win situation all around.
Your Assignment:
So, go for it! Expect more of them, lovingly. In turn, you'll have more satisfied clients and those types of clients become RAVING fans who refer like crazy.
Make a list of your current clients and think about the goals they've set for themselves. Are these goals exciting enough? Do these goals literally PULL the clients into their future or are they a little weak?
Let your clients know upfront that you're going to expect a lot from them. You can put this on your website or in their welcome packet. It's been my experience this is actually really exciting for them. Most times, they don't ask enough of themselves because of fear of failure (and strangely enough, fear of success too).
Let them know you want to play this game with them and see where it goes. Most people love this, especially high-achieving go-getters (my favorites!).
Take a soft approach to this though, not an aggressive one (you don't want to turn anybody off). Ask them permission to help them double their goals or reach their goals in half the time. Explain to them that they have nothing to lose and everything to gain.
Why is that so Client Attractive? Because, your clients start getting amazing, really kick-butt results, they'll start telling EVERYBODY about how awesome you've been for them. That, my friend, means referrals, referrals, and more referrals for YOU. Cha-ching!
If you want even more strategies for getting a full practice quickly, I recommend getting a copy of the Client Attraction Home Study System™. It will show you the most important things to do to set up simple, solid marketing systems, so that you consistently fill your pipeline and continually get new clients. It's all step-by-step, not a big mishmash of things. So, you do step one of the system, and when you're done with that, you move on to step two, and so on. All the tools, scripts, templates, and examples are handed to you on a silver platter. Easy. You can get it at www.theclientattractionsystem.com.
© 2011 Client Attraction LLC. All Rights Reserved.
*********************************************
Want to use this article on your website or your own ezine?
No problem! But here is what you MUST include:
Fabienne Fredrickson, The Client Attraction Mentor, is founder of the Client Attraction System

, the proven step-by-step program that shows you exactly how to attract more clients, in record time…guaranteed. To get your F.R.E.E. Audio CD by mail and receive her weekly marketing & success mindset articles on attracting more high-paying clients and dramatically increasing your in.come, visit www.clientattraction.com.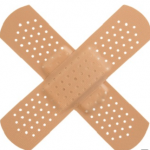 I had some really interesting conversations yesterday with my Sapphire and Diamond clients (the highest levels of my Winners Academy.)
For these advanced business owners, the question is not how to get MORE clients; they have plenty. It's how do you GROW and double your business, say from $250,000 to $500,000 or from $500,000 to a million-dollar business, when you're still the bottleneck in the business. Meaning, even if you have some team members in place, you STILL do a lot of things yourself. Still.
So, the question I asked is:
"What would happen if we doubled the number of clients you had, starting tomorrow? What would happen to your business?"
The answer, every time?
"My business would implode."
Exactly.
See, it's all well and good to want to double your business each year (that's what my clients and I aim for, and accomplish, virtually every year), but you can't build an empire on a foundation made of Band-Aids. And let's face it, your business right now is probably a Band-aid operation, like mine was. Here's what I mean: if your current systems, team, operations and organizational infrastructure aren't set up to handle the extra volume, you won't be able to handle the new business. You can't HANDLE the growth.
(Reminds me of Jack Nicholson saying in A Few Good Men, "You can't HANDLE the truth!")
So, at the Diamond or Sapphire level, we look not only at increased exposure, better marketing sequences and positioning in your marketplace, but we also look at what it will take to double or triple your current revenues in one year, while making sure everything is set up so you CAN handle the growth.
What matters most?
1) the right systems, 2) better marketing, 3) a scale-able business model, and 4) the right support team.
I know, this kind of thing is NOT 'sexy'. None of it is, and if you're anything like me, you come up with lots of new exciting ideas all day long and the LAST thing on your mind is creating Systems and changing the Organizational Infrastructure of your growing business.
But without these, you can't HANDLE the growth.
That's why 4 members of my Winners Academy clients crossed the million dollar mark this past (woohooo!!) with 7 more on track to do the same within the next few months.
So, that's why you can't build an empire on Band-aids.
Your thoughts? (Post them here and I'll respond.)
Hugs, Fabienne
http://www.ClientAttractionWinnersAcademy.com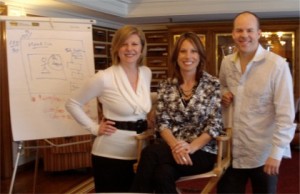 This week was filled with big breakthroughs for my clients. A yummy Sapphire level client came for her private in-person visit and happily announced she increased her revenues to close to three quarters of a million-dollars last year since working together, while being more true to herself and her calling. She's back for a second round of working together to multiply her already exciting results this year, and step more boldly into her divine purpose. I also hosted a closed-door one day Coaching Intensive (see picture of one of the attendees above) with a handful of entrepreneurs who came to get clarity on their message and their big vision and to have me craft their exact marketing plan for them, along with the steps and plan needed to implement it in the shortest time possible. It was really moving for some to see that this is finally possible for them too. This Coaching Intensive day will become a defining moment in their lives. My heart is full and when "work" feels this good, it can only mean that I'm living my divine purpose too, through helping other entrepreneurs live theirs.


From time to time I'll be posting my Small Business Success Tips on CNN's Headline News site and I'll share them here with you as well.
Did you know that 95% of entrepreneurs in the United States make less than $100,000 a year? Many entrepreneurs, especially in this current economy, are simply setting their sights too low!
Now is the perfect time to set your intentions for what you want for your business this year, then to put a plan of action in place to achieve just that.
Watch my video tips on making more money (and serving more clients and customers) in your small business in 2011.
Here's to your success!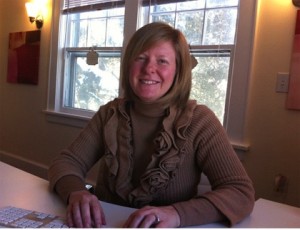 As you may know, over the last three weeks I have devoted the majority of my time toward finishing up my book on the mindset for lasting success. It's been a transformational experience for me – cathartic, reflective, and even challenging at times (it takes real resolve to apply the seat of your pants to the seat of a chair!) Carving out this dedicated time with the support of my family and my yummy clients, and creating a space-physically, emotionally and spiritually – that supports me in doing this important work has made ALL the difference. I'm so grateful that I'm able to do this. The good news is that I've completed two thirds of the book as of today and that I'm so, so pleased with what I've written so far. Without trying to sound presumptuous, I sometimes sit here and I imagine the thousands of lives these words will change – I get really moved by the thought of it.
Before I get back to writing, I want to make sure that you had a chance to watch my new video in which I demonstrate my son Oliver's new learning toy AND what it takes for YOU to accelerate your efforts to get more ideal, high paying clients in record time. In it, I announce the launch of my brand new program that will GUARANTEE that you get more clients, and make a lot more mon-ey, in 48 hours spent with me. Take a few minutes to check it out because in it, I've made you a really amazing offer: I'll teach you everything you need to ever know about getting clients consistently over just 2 days, for less than a pair of fancy designer shoes. But please know that this ridiculously LOW, unheard-of pre-registration tuition only lasts for only one short week. So, now's your only chance to act and I'd really love to see you in person this April. Watch the video here and lock in the super-low tuition today (yes, you can always change your mind later, no problem.)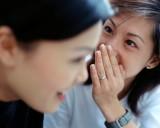 To dramatically increase referrals, it's important to educate the people you consider personal advocates (those who know you, like you, trust you, love you, and want the best for you), and let them know what you're up to and who your best clients are.
If you're just starting out, it's a letter of introduction; if you've been in practice several months or years, write an "update letter" on how your practice has grown or new services that you provide. (more…)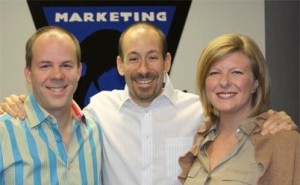 Hello from Arizona! Derek and I joined another high-level mastermind this year and, although we just re-upped with another group, we're excited to be part of this one too. You see, we have BIG goals for 2011, and a TON more entrepreneurs to help. And to reach those lofty goals, we've got to have specialized knowledge we don't currently have, create strategic alliances with people outside of our current circle, AND we need regular in-person accountability. Without this kind of support, I'd never be where I am today. In fact, this group is so high-level, you'd know most of them: virtually all the most well-known marketers in the world, an infomercial king who brings in 2 million-dollars a week (gulp!), famous stars (including Paula Abdul), etc. Basically, we're masterminding with serious PLAYERS. And when you're being called to step up and play with the big leagues, you can't help but play a bigger game. (Plus, I pass this info on to my clients, which is a bonus.)
What about you, how will YOU place yourself in an environment of SERIOUS players this year, to get the specialized knowledge you don't currently have and be pulled to play a much bigger game and reach your goals? It doesn't matter what level of business you're in, it's crucial that you belong to something that has you take bigger action.
By the way, did you see the video I did from Newark Airport on my way to Arizona? (When you watch it, ignore the random people walking by me wondering what on earth I'm doing filming at the gate.) Anyway, the video's about your goals for 2011 and whether you're going to reach them or not. It also announces opportunities that are available to work within my 2011 Winners Academy programs. Watch the video here and enter your info on the boxes on the page to find out more about the Winners Academy programs.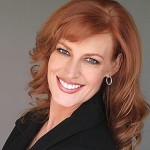 I just love Lorrie Morgan-Ferrero's List of the 50 Coolest Marketers of 2010 and I'm also honored to be among them!
Lorrie included me for "teaching the softer way of getting clients." For me, that's what it's all about. How do you market using a "softer approach?" You pull your clients toward you rather than chase them down.
Pulling clients in is not only more fun than pushing hard to "get" clients, it's MUCH easier. Who wouldn't rather have clients call them instead of pounding the pavement? The concept is a no-brainer to grasp, but very few solo-entrepreneurs actually do anything about becoming more client attractive.
How about you? What marketing strategies are you using to pull clients toward you? Are you offering tremendous value? Are you positioning yourself as THE expert with THE solution to your client's problems? What is your compelling and authentic marketing message? I want to know!
A big thank you to Lorrie for including me in your post!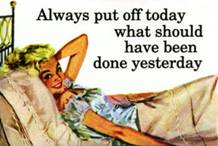 Have you ever looked at your to-do list and just wanted to run away? Sometimes, procrastination gets the best of us self-employed people. It seems that everything is priority and we tend to put some things on the back burner. The thing is, if the items on your to-do list have to do with marketing and Client Attraction, then you don't want to ignore them (if you do, your pipeline of prospects will be empty in 6 months, or less). (more…)