Frequently Asked Questions
Q: I'd like to enroll in The Client Attraction Business School but I'm not sure which track is best for my business right now. Can you help me decide?
The best way we've found to determine which CABS track will give you the best results right now is to look at two criteria. First, what is the current revenue in the business you are growing right now? If you could use a lot more clients and are making up to $85K in your business, you will benefit most from the ramp-up curriculum and support of the Growth Track. If you are making more than $85K in your business, are at (or close to) full practice capacity and it's time for you to clone yourself, then you're ready for the Leverage Track. The second way to determine which track will give you exactly what you need most right now is to read the Entrepreneurial Profiles, putting particular focus on each profile's sections: Who you are, What your issues tend to be and What you need most right now. You will recognize yourself in one of the profiles, and that is the one you'll thrive in.
 Q: I make good money in my corporate career (example: $150K), but I'm transitioning into a new business. How does the income level apply in this situation?
We've found over the years that as an entrepreneur, you experience different "issues" at each level of your business and that these typically correspond to certain levels of revenue coming from the business. The revenue level gauge has been a surprisingly accurate way of determining what you need most in your business. That said, this is not to be confused with income you make working for someone else, in your corporate career, or in a different business from which you'd like to transition into a new business. We look at what the revenue is in the new business you're starting and use that to determine which track of The Client Attraction Business School would suit you best.
Q: I clearly belong to one particular Entrepreneurial Profile, but I want to be in a more advanced program. Can I do that?
Over many, many years of running coaching groups and mentoring programs, and having coached thousands of students, we've sometimes seen students who applied for the wrong track feel overwhelmed, with some of the material seeming to go over their heads, resulting in frustration that their issues aren't being addressed. For your best interest, we therefore accept student enrollment only into the most appropriate track, with the caveat that you may advance to the next level as soon as you're ready—even if that's before your initial program year is over. There's also a question of financial resources available for you to invest in your marketing. In the Growth Track, we cover the marketing techniques and strategies that focus mainly on no-cost to low-cost marketing materials. Why? Because we understand that in ramping up your business and looking to fill your practice, you're often on a shoestring budget. In the Leverage Track, you are able to invest more in hiring, more complex marketing sequences and support technology, things that are necessary for you to leverage and scale your business.
Being exposed to this information when your resources aren't as readily available would be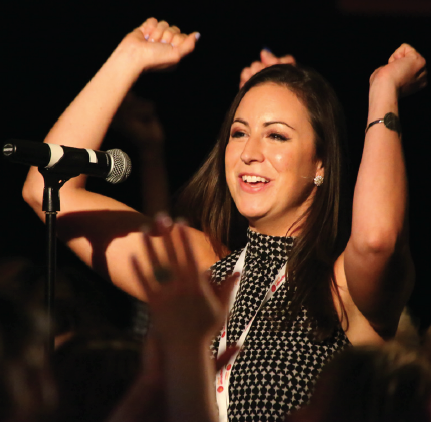 counterproductive. This is why we focus so much on you joining the right track for you right now. We want you to take massive action on what you need most so you can get the results you want most. As we see it, it's a matter of Personal Integrity. We only want to do the right thing for our students, because we love our students. That said, we've turned away students in the past who wanted one program but weren't ready for it (this is a difficult decision, and even harder to disappoint someone), and yet we have seen the benefits of this decision time and time again. You too will realize this and likely thank us down the line for choosing the track that is the best fit. Additionally, you'll love being in a group where everyone is at the same level, rather than either being the one desperately trying to catch up to the rest or being surrounded by those desperately trying to catch up to you and not feeling like they are equal peers in your track.
Q: If I quickly ramp-up my business in the Growth Track, can I qualify for the next level of the Business School in the middle of my program year? Can I move up mid-year or must I wait until the end of my program?
Although we recommend completing all the curriculum in your first program year before moving onto the next, you may absolutely move up from the Growth Track to the Leverage Track mid-year once your business has grown significantly. This has happened many times and we love seeing this kind of rapid implementation and even more rapid results. If this is the case, our Program Advisor will be happy to meet with you and reevaluate your program as soon as you've qualified for the next Entrepreneurial Profile. When we see you consistently getting exponential results and determine that you are indeed ready for a more advanced curriculum focused on leveraging your business, we are pleased to help you move up to the next level of The Client Attraction Business School. Congratulations!
Q: The Business School sounds great but I think I want to implement all this information on my own before I get started. Is this the right thing to do?
It has been our experience, from working closely with thousands and thousands of business ownersover the years, that when they are left to their own devices to implement on their own, it inevitably fails. Why? Because entrepreneurs are people who are strong "starters," eager to begin new things, but are not strong "finishers." On your own, you'll likely implement some of the elements. However, with the support of strong coaches giving you step-by-step guidance, answering all your questions, getting you unstuck when you get stuck, giving you daily accountability and the unconditional support of a structured environment of peers who care about you, your implementation increases dramatically. Without it, you tend to go back to your old ways of doing things, slowing down your progress and unnecessarily delaying the results you want now.
Q: I'm in another mastermind/coaching program right now. Should I wait until that one is done before enrolling in The Client Attraction Business School?
If you are currently working with a coach or mentor or you belong to a mastermind group, congratulations! And yet don't fall prey to the false assumption that you can get everything you need from just one person. Both Fabienne and Derek have belonged to as many as four mentoring programs each at one time—masterminds and working with their own mentors. Why so much mentorship at once? They don't subscribe to the erroneous belief that you can only work with one mentor at a time.
They work with different mentors with different skill sets in the areas of business growth, Internet marketing, information marketing, spiritual principles and mindset, etc. And as a result, they have infinitely more accountability and access to resources they wouldn't have otherwise, and they take more action. We want the same level of accountability, continuous access to best practices and consistent support for you too, so you can see your results multiply very quickly. That said, if you're not getting this kind of expert training and resources with your current support system, we recommend you join us now. Never postpone results you could be experiencing now.
Q: I know I belong in one of The Client Attraction Business School tracks but I'm not sure I can afford the tuition right now…
When any opportunity for growth is presented to you, it's important to evaluate it based on the value and specific results you will receive from it, not from what it "costs." When looking at their own opportunities for investing in themselves, Fabienne and Derek use a "4x model." "If I implement everything that is presented to me in the program, using the expert coaching, step-by-step methods, support and accountability that are built in, is it likely that I will eventually make four times my investment back in the program in the next 12-36 months?" If the answer is "yes" then indeed, it is a very good investment.
Many students are happy to report that education from the small Business School pays for itself in the form of new clients, with many students making back their full-pay investment in a matter of months, some much sooner. The structured environment, proven curriculum and coaching ensure that you take action consistently. This results in new clients that essentially pay for the tuition. Obviously, if this investment (even at the low installment level) is going to bring financial hardship to you and your family, then you may not be ready. But realize that if it is within your comfortable grasp, investing in yourself is the best investment there is. You get results that pay for the program, and you use the learning for the rest of your career.
Q: I want to apply but I'm not so sure my spouse will be OK with the tuition investment. How do I get my spouse to support me in this decision?
You can direct your spouse to ClientAttractionSpouse.com to view a special video message from CABS founders Fabienne and Derek. The video is about the importance of supporting your spouse in the growth of their business and the mutual benefit it can provide for the partnership when involved in the Business School.
In our experience, spouses who aren't "in the room" when this education is being presented don't always immediately see the value in the investment. They may not realize that the equivalent of a Bachelor's Degree in marketing is crucial to being a successful entrepreneur. Typically, the spouse is skeptical and wants to be reassured that this isn't just another "bright shiny object" for the entrepreneur, but rather something that is going to produce real results and provide a substantial return on investment. We honor that healthy level of skepticism. When presenting the opportunity to enroll in The Client Attraction Business School, it's important that you share with your spouse 1) what the program specifically entails, 2) what solutions it provides, 3) what makes it different from other programs you've experienced, 4) the credentials of the coaches, 5) and the vast number of success stories from others who have gone through it, implemented the concepts and who stay in the program because they get results.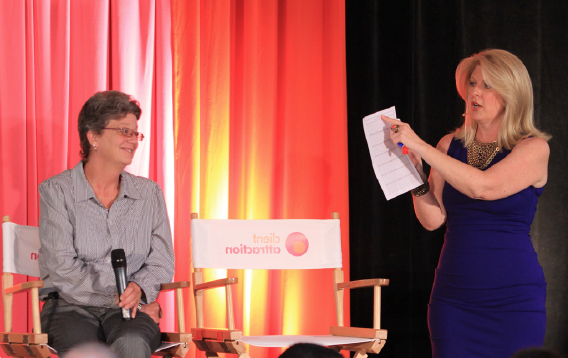 Direct your spouse to view all the video testimonials and read the success stories on ClientAttractionSpouse.com and ClientAttractionBusinessSchool.com. Your spouse simply wants the best for you, and when you describe what you'll get and what your return on investment will likely be, you will have full support.
Please also let your spouse know that they are invited to attend all the meetings for a small yearly administrative fee. This is optional, but we recommend it as we feel that two people on the same page, implementing together is better than just one.
Q: I understand that the Multiplier (Private Client) Track of The Client Attraction Business School is almost always full and has a waiting list. Is there another way for me to receive private, in-person coaching days from Fabienne and Derek, in addition to all the personal coaching I get in the Growth Track or Leverage Track?
Yes, as a student of The Client Attraction Business School, you have the option to add on additional one-on-one in-person strategic planning days with Fabienne or Derek at their home or office. These are typically scheduled around the time of your Growth Track or Leverage Track live meetings, to make it easier for travel purposes. These private and semi-private days are only available to students of The Client Attraction Business School, and students rave about this additional level of support and strategy. You will hear about these reduced-tuition optional private strategic planning days during your live retreats.
Q: Where do the live meetings take place?
All live meetings take place in Stamford, Connecticut (just outside New York City), where The Client Attraction Business School is located. The Growth Track meetings are held at a beautiful hotel in Stamford where we have negotiated discounted room rates, while the Leverage Track retreats are held at the Stamford Yacht Club, overlooking Long Island Sound. Stamford is conveniently located near five New York City airports (LaGuardia, JFK, Newark, Westchester – White Plains and Hartford) and provides convenient access via Amtrak and the Metro-North commuter railroad. (The train station is a five minute drive from our meeting locations.
Q: I'm interested in the Growth Track but what if I can't travel to attend one or all of the live meetings?
Although we love seeing our students in person and there's a lot to be said for face-to-face interaction, being in "the vortex" and getting in-person access and support, we realize that it's not always possible to make it to each and every live meeting, especially if you live outside of the United States. That's why the Business School provides a "virtual" option for the live events using a video livestream for the entire two-day meeting, where you can participate from the comfort of your own home. This allows you to be there with us virtually via a live video feed for the entire two-day meeting. All you need is your computer and an Internet connection. If for any reason you can't make a certain portion of the livestream, you have access to the video recordings of all of our meetings in the Online Member Center. In case you miss anything, you can simply watch it later. Our students around the world greatly appreciate this virtual option.
Q: I can't attend the first meeting happening in just a few weeks. What are my options?
If you enroll in CABS close to the date of a live meeting and find that you can't attend due to a previous commitment or don't have enough notice, we'll honor your commitment by allowing you to attend the meeting in the next calendar year, even after your first year of the program has concluded (to ensure you receive the full benefit of the program). Keep in mind that you also have the option to attend virtually and view the recordings as well, instead of missing the meeting altogether.
Q: I've noticed several students of the Business School are coaches. What if I'm not a coach and I sell products, instead of a service or a program? Is this the right school for me?
Although CABS students come from every imaginable industry (from healers to financial planners to web designers), we often attract coaches as students because we have strong strategic alliances with several coach training companies. That being said, regardless of the type of business you have, The Client Attraction Business School will help you grow your business to the next level. Whether you're looking for more clients, students, patients or customers, whether you have an online business or a brick and mortar company, the Growth Track will get you to success through our specifically-designed marketing fundamentals. If you've got enough clients and customers but you have very little time and everything still depends on you, then the Leverage Track will help you create systems and leverage in your business so you multiply your income with more downtime—again, regardless of the type of business you have.
Q: How many students are in the Growth and Leverage Tracks, total?
It's difficult to say exactly how many students are in these tracks at any given time, as this number shifts. What students have reported over the years is that each track is large enough to support collaboration, fantastic networking and joint-venture opportunities with your peers, but small enough to create a close-knit bond and direct access to Fabienne, Derek and your coaches during the live meetings. Rest assured: the programs have been created with your success in mind. We (and our existing students) fervently believe that everything you need is in this room and this has proven itself to be true, time and time again.