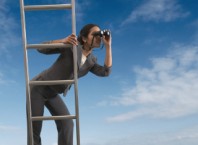 In practice building (and getting clients) it seems to be that most self-employed people just hope for the best. They simply keep doing what they've been doing and don't have a strategy for creating the practice they'd be truly and deeply happy with. This is a big mistake in my opinion.
I used to write down my goals each year, but it never really worked for me. I just didn't feel really excited about my new goals. They didn't seem to propel me in motion and so I kind of viewed them as being useless. I never really looked at them, probably because they seemed like "shoulds" rather than "really-meaningful-wants." (more…)
My family and I spent a cozy Christmas with family and close friends at our ski home in Vermont. I hope you are spending this special time of year with those you love as well. This holiday season, I have a special request to ask of you. Over the next week, as you rush off to parties, enjoy all those presents, and busily go about all your preparation please take a moment to not lose sight of what really matters.
Spend a few moments deeply appreciating all of the abundance that surrounds you now,because what we are thankful for, we attract more of. While you're at it, take some time to acknowledge the important people in your life, including your yummy clients and even extend some extra kindness to those who may need it most right now.
And as we get ready to transition from the old year to the new, I hope you'll allow yourself to dream really big dreams for 2011 – both for your business and your life. Stretch your vision of what you think is possible. (It's all within your reach.)
Lastly, I want to express to you how very thankful and grateful I am to have you in my life. Thank you for trusting me in this process we call Attracting Clients. Thanks for saying yes to your big purpose here on earth. And thanks for sharing certain parts of your life with me. It's truly an honor to be a part of your life.
Sending you so much love!
Whether you have a new idea for your existing business or you want to create a brand new business for your existing life – there's one truth that savvy entrepreneurs know without a doubt:
Confidence is key.
In fact, studies show that "lack of confidence" is THE leading excuse for procrastination, inaction and failure. If this sounds familiar, and you consistently wish you were more confident in yourself, then my guest and I will show you how to change that starting right now. We'll show you exactly how to break through the fears that try to stop you each time you get a new idea. We'll teach you how to take action in spite of doubts. We'll reveal the role that elimination and letting go play in your confidence levels. We'll also be sharing some real-life examples of how you can apply new mindsets to dramatically increase your courage and self-esteem. And finally, you'll understand how to build your "Confidence Momentum" by implementing some simple daily habits that work like magic! Don't miss this call! Your success depends on it!
This call is ONLY for Inner Circle members. Not a member yet? Join now to access this call with Fabienne's FREE 2-month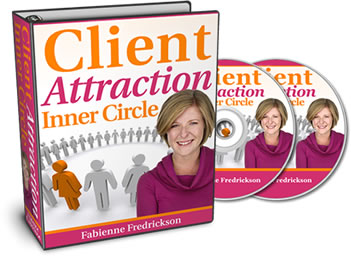 Membership trial (plus a small shipping/handling fee).
When you join, you get access to monthly Q&A calls with Fabienne AND well over 3 years worth of special topic audio, transcripts, forum posts and bonus calls with Fabienne each and every month.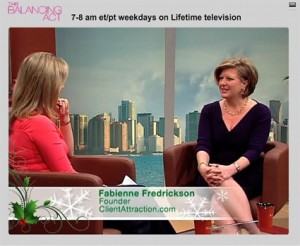 Woohoooo! This week marked my national television debut! Just recently, I was asked to be interviewed on Lifetime TV's The Balancing Act to discuss important aspects of business building for women and the similarities between running a successful business and a family (hint: SYSTEMS and MARKETING!) My kids LOVED seeing their mommy on TV and even seeing glimpses of themselves on the show. They were so cute about it! Thank you for all the amazing feedback and your kind words of support and love. It means the world to me.
As you know, I believe that to achieve big success in your business, you must be willing to play a bigger game, and continually stretch past your comfort zone. For me, that means going full throttle this coming year with more media, bigger speaking opportunities, more prominent joint ventures and more online visibility – all so we can reach so many more people who need my help. This past year, I set the intention to make 2011 a HUGE year of exposure for my message, and the opportunities have already started showing up in my life. It's a really exciting time – and I'll continue sharing it all with you to inspire you to do the same.

It's a question I get ALL the time. Fabienne, how do you do it? How do you balance running a successful business with your busy family life as well? Well, Yesterday during my segment on Lifetime TV's The Balancing Act, I talked about just that! Tune in for some of my best tips because achieving a peaceful balance in your life can absolutely be a reality. Then, I want to hear from you! Comment below and tell me what challenges you face with balancing it all and how have you overcome those challenges?
Enjoy the segment! Oh, and I've started a new media page on my website. I hope you'll stop by often to see what's new!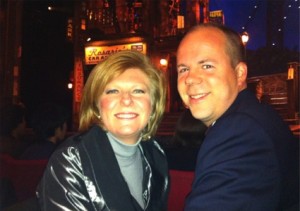 Derek and I went on our quarterly mid-week 'staycation', going away without getting on a flight, this time to New York City. We believe in taking time for ourselves as a couple to connect — if you have kids, especially 3 or more, you know there's not a lot of 'couple' downtime, especially as entrepreneurs! So, last Monday, a luxury car took us into Manhattan in style and we stayed for two nights in a suite at the sumptuous Trump SoHo hotel. On the agenda? We focused on togetherness, walking around town, shopping, fine dining, an indie film, a Broadway show, and more yummy meals at several favorite restaurants. Oh, and we made sure there were no phones, no tweeting or texting, with heavy emphasis on complete and utter relaxation and connection. It was bliss and 2 days felt like 5 days!
Were you on the BIG call last Thursday night on Client Attraction Mindset? It was one of the best calls I've ever done, with over 2,500 registered for the call. You can listen to the recording here if you missed it. At the end of the call, I launched (for the first time ever) my Mindset Retreat workshop-in-a-box, the at-home version. This is ALL of the content from my live retreat that was held this past September in Miami. It was a blockbuster success and I'm proud as can be to offer this to you – including *13* DVD's and *22* CD's of the live event, including ALL the exercises and resources the live attendees got, so you can play along at home too, listen and watch as if you were there live with us. You can view a 57 minutes *all content* video presentation of me on stage the first day of the Mindset Retreat to get a taste for how transformational the content was. You can access that video here, for a limited time.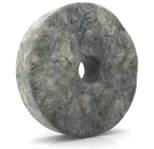 It's a phenomenon that happens to most people in business for themselves after a few years. When solo-entrepreneurs first get started in marketing their business, they have gusto, they have energy, and many take a no-excuses approach to getting clients. They're WILLING to do what it takes, and they do it often (most of them).
But after a few years, they begin to rest on their laurels, they get lazy, and after a while, they stop doing what they used to do to get clients. Some stop networking; some stop doing free intro classes, either in person or over the phone; some no longer do as much speaking as they used to. They've slowed down their marketing, and then they wonder what's happened to their pipeline: it's empty.
Oh, and I hear a whole bunch of excuses as to why they're no longer doing these things, too. There's always a YEAH-BUT… "I don't FEEL like doing that anymore," or "I've already done that, it won't work again," or even "I'm tired, I don't want to work that hard." Some even begin to wonder if they should stay self-employed, ready to give up.
As a result of the excuses, the well continues to dry up and they find themselves digging the well when they're thirsty (Not fun: it creates sleepless nights and financial troubles.) Then, the fear sets in and they scramble for NEW things to do. Ever done that?
It seems they want to reinvent the wheel. They're looking for new ways of doing things and this creates a sometimes frenetic, frantic approach to getting clients. I believe this ties into the "Bright Shiny Object Syndrome" we talked about recently, always looking for something new to do, something exciting, while leaving behind the proven stuff.
However, what I've learned over the years is, doing something new doesn't always create results as quickly. The systems aren't as easy to put in place and there's always a learning curve for new stuff. What clients are surprised to hear is that, instead of creating BRAND new strategies, sometimes, we begin by going back to doing the tried-and-true, proven things that worked very well for us in the past. We go back to the basics: Marketing Pie 101.
Why reinvent the wheel when you can go back and do the simple things that are proven to work?
Your Client Attraction Assignment:
My thoughts on this: You either have EXCUSES or you have RESULTS.
So, my questions for you are:
What have you been UNWILLING to do recently to get clients that USED to work for you?
Have you stopped doing something that you did regularly in the beginning?
Where have you gotten lazy?
What used to work for you in the early days?
Are you doing this now?
Are you WILLING to do this now?
If now's the time for you to ramp up your client load, then stop everything and take a look at your Marketing Pie. Which slices of the pie are you implementing regularly? Are you not being consistent with your marketing?
It's time to go back to the basics. And, it's time to recommit. The funny thing is, when you recommit and you start doing these things again, they WORK. And what happens is, you start getting clients, more mo'ney starts pouring in, and you begin to LIKE doing these things again. Marketing becomes FUN again. Your whole demeanor changes. And, you instantly become more Client Attractive as a result. THEN, once the foundation is in, you can start adding in all the new stuff. Try it. It always works for me and my clients.
Now, if you're stuck with what to do to fill your practice in the FIRST place, then follow a step-by-step system that feels easy and authentic to you. The Client Attraction Home Study System™ avoids the "Bright Shiny Object Syndrome" and instead gives you the most important things to do to set up simple, solid systems, so that you consistently fill your pipeline and continually get new clients. It's all step-by-step, not a big mishmash of things. So, you do step one of the system, and when you're done with that, you move on to step two, and so on. All the tools, scripts, templates, and examples are handed to you on a silver platter. Easy. You can get it at www.theclientattractionsystem.com.
© 2010 Client Attraction LLC. All Rights Reserved.
**********************************
Want to use this article on your website or your own ezine?
No problem! But here is what you MUST include:
Fabienne Fredrickson, The Client Attraction Mentor, is founder of the Client Attraction System

, the proven step-by-step program that shows you exactly how to attract more clients, in record time…guaranteed. To get your F.R.E.E. Audio CD by mail and receive her weekly marketing & success mindset articles on attracting more high-paying clients and dramatically increasing your in.come, visit www.clientattraction.com.


I had a great time chatting with George and Mary-Lynn over at The Bigg Success Show recently.
I hope you'll take a few minutes to tune in to this two-part interview. In it I share what the #1 thing is that will get entrepreneurs past their fear. I also want to share with you the steps I've personally taken to get over my fears and avoid all the overwhelm that so many entrepreneurs experience in their daily lives.
And as always, let me know what you think in the comments below!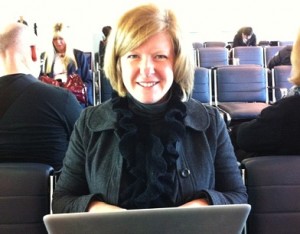 It's been a busy season of meetings and trips, both personal and professional. Last week, I attended a one-day meeting that left me sleepless last night, my mind racing about the possibilities for expansion of The Client Attraction System® to a global company that is the number one resource for women entrepreneurs looking to attract more clients, experience unlimited lifetime growth and an unsurpassed quality of life. My heart races when I imagine how truly big this vision is, and yet, at the same time, how doable and attainable it is, right within my reach. I'll share more of the development over the next few months…
This is actually a great example of the kind of mindset you need whenever you're looking to grow your business, even if you're at the beginning stages, stuck, frustrated, overwhelmed even with the prospect of getting just a few more clients on board. The opposite is a mindset that helps you have a consistently full pipeline of ideal, high-paying clients, who refer others to you continuously. Are you curious about attaining that same mindset? Watch a video I just made for you and attend the no-charge live training call I'm hosting for you next week. You can register here.
Now that I'm done traveling for the year (other than a solo, romantic 2-night jaunt to New York City this week with Derek), I'm looking forward to finishing my book in December and January. And while Derek and the kids went skiing in Vermont this weekend, I stayed home to spend quality time with little Oliver in our new home, and for some girlfriend time from my close friend Baeth who visited me from Tucson, AZ. It was great, relaxed fun! Hope you had a greet weekend too…