Have you ever been hesitant to do something to grow your business because of a past mistake or failure?
This is so much more common than you realize.
Recently, one of our students who owns a successful practice – we'll call her Jennifer – expressed concern about growing her business to the next big level.
After digging a little deeper, I found out that she'd taken her practice to a much bigger size years ago, but saw it crashing down around her not too long after.
Why did the business collapse after such a massive growth spurt? A lack of systems and management that is required for this kind of fast growth.
This left Jennifer deflated and worried that she didn't have what it takes to run a successful practice.
And because of it, frankly, she was really hesitant to attempt scaling her business again…
…until I took her through a transformational process I call The Groundhog Day Process™.
I shot this video to show you how to use this process to turn any failure or past mistake into a golden opportunity:
Here's the deal…
To have the confidence to get things going again, it's important that we learn from our mistakes, every single one of them.
In fact, I believe that there are NO mistakes when you use this Groundhog Day Process.
You see, when things don't go the way we planned, we typically concentrate on the bad things.
But as we got to talking, Jennifer realized that there were so many things that she had done right, and if she concentrated on those things going forward (and remembered the things that didn't work so well), then her business would succeed this time around, the right way.
Curious about how it works? This week's 6-minute video takes you through my method for regaining entrepreneurial confidence and creating breakthroughs out of old breakdowns.
It's really powerful.
And once you watch the video, my question for you today is:
What situation do you wish you could "Groundhog Day"? What priceless lessons have you learned from past mistakes that you can share with us?
Please share this with me in the comments and let's start a conversation about this! I can't wait to read your comments below.
Let's grow your business the right way this time around!
Sending you big squeezy love,
Fabienne
P.S. Do you know of an entrepreneur who feels gun-shy about growing their business because of not-so-great-results in the past? Send them this blog and spread the love, ok? Thank you for being YOU. 😉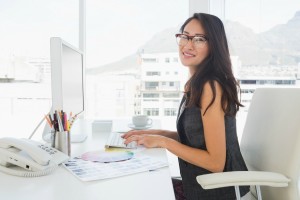 Are you currently tracking prospects and how they find you online? If not, start now. I can't emphasize enough how important this is for building your small business.
You need to know how prospects find you so you can turn up the dial on that marketing tactic,or maybe even start a new one altogether. Without knowing where your potential clients are coming from, it's impossible for you to know what's working and what isn't when it comes to both your marketing strategy and your online presence.
Here are two tactics for tracking your marketing results and understanding what methods are working for you.
1. Create a lead log
Whenever you speak to a new prospect, whether by phone or email, make note of it. I suggest that students make what I call a "tracking log" for all potential new clients. This way, all of the information is in one place. There are a few different options for tracking logs, including: a Microsoft Excel spreadsheet, a table in Microsoft Word, using software like Infusionsoft or ACT (for the high tech people!) or even just a pen and paper. It doesn't have to be fancy – it just needs to work.
Each time you get a new bite, consistently ask every caller (or emailer) how they found you. If they don't remember specifics, make note of what they do recall. Perhaps they read an article on the web, stumbled onto your site while surfing or were referred to you by a friend. Even ask them what keywords they typed into Google, but just be careful not to push. You don't want this to seem like an interrogation! With time, you will start to see patterns letting you know which marketing tools are the most productive. Then, concentrate on those techniques.
For example, if you discover that most of your new clients come from referrals, you might want to establish a referral program, such as offering an incentive to anyone who sends you a potential new client. Announce this in your networking groups and let your clients know as well that they will be rewarded when a new customer signs up.
2. Install Google Analytics
Make sure your website has Google Analytics installed. This is a free service that tracks your website's statistics and analyzes traffic patterns and visitor behavior. With Google Analytics you can find out your most popular landing pages, which sites refer the most traffic to you and which keywords people use to find you when searching for answers to their problems. If you don't know how to set this up or read the data, hire someone who does so you can benefit from the information.
Once you have a better idea of how your potential and existing clients are using your website, you'll be able to further improve these areas to leverage them even more and improve your pages that under perform. Find out how many visitors return to your site and what percentage of people are new. All of these factors can contribute to improvements in your website and your online marketing, as well.
Your Client Attraction Assignment
What tracking system do you have in place to know which marketing tools are delivering the results you need? If you don't have a system, it's time to create one. It's okay to start small! Once this becomes a solid habit, you can expand to gather more details. Then be sure to look at your results quarterly so you know where to focus your time and money.
This is just one of the many best practices we dive deep into with the students of The Client Attraction Business School, the premier training school for growth-minded entrepreneurs looking to quickly attract more clients and make more money. If you're interested in finding out more, visit www.ClientAttractionBusinessSchool.com for more details. To speak to an enrollment coach, click here.
Recently, a student of The Client Attraction Business School who runs a very successful interior design company told me that she was completely overwhelmed.
Despite the fact that she has a great team in place and effective systems, things weren't getting done fast enough.
After a few clarifying questions, it became clear that she was actually the one getting in the way.
Even though she wanted things to be moving faster, she was the one slowing things down by being too involved in her business.
Because so many entrepreneurs are overwhelmed, even when they're successful, I recorded a video to help you navigate these waters:
To get yourself out of being involved with everything (and able to focus on the big things!) you'll need to do less, better.
In this week's short 5-minute video, I've outlined what you can do to get over the feeling of being over-involved.
After you've watched the video, understanding that to accomplish more, you have to do less, better, please let me know in the comments section:
If you could focus on just one project to significantly move your business forward, at the exclusion of all other projects, what would that one project be?
Is it writing a book? Bringing on a team? Scaling your existing business models? Systematizing your entire business? I'd like to know… Please leave your answers in the comments section of the blog and I will see you there!
Sending you lots of love,
Fabienne
P.S. We just had the pleasure of welcoming a new class of students into The Client Attraction Business School after the Mindset Retreat event! Just want to give them a shout-out because they are truly awesome and ready for BIG things.
If you're ever interested in learning more about our Business School, you can click here to easily schedule a free Strategy Call with one of our caring Strategy Coaches, to map out your next 12 months. We're here to help. 🙂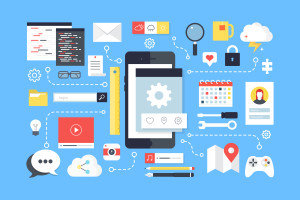 I'm thrilled to introduce you to one of our standout coaches of The Client Attraction Business School™, Jen Levitz, The Strategic Automation and Marketing Consultant for Automate With Love. Please welcome Jen as a guest contributor to the Client Attraction blog. As always, we'd love to hear your feedback. Please post your comments and questions below. ~ Fabienne. Connect with Jen on Facebook here.
When it comes to marketing automation, the first big question is usually: "What system should I use? MailChimp or AWeber, GetResponse or ActiveCampaign, Ontraport or InfusionSoft?" The truth is that if you're focusing on the technology, you aren't focusing on the right thing. You see, the technology is just a tool to help you get a specific task done.
Here is what I'd like you to do instead. Think of your automated marketing system as the first employee you are going hire for your business. The job title is going to be "Director of Customer Relationships."
Now before you hire someone – and even before you start to interview candidates – you'll need to figure out what exactly this role entails in your business.  And ideally, you'll look at what your business needs now and what it will need in the next 12-24 months.
You see, just like a real person in your office, your automation system is going to need some training in order to be able to do the job you want it do. And if you are going to be investing resources in training, your candidates should be able to handle your business as it grows.
One of the best tools for this process is to create a flowchart that will map out your current customer experience. This will allow you to follow the flow of an ideal client from when they join your email list all the way through when they buy a product.
Everything you do to serve your ideal client should be on this flowchart or map. This includes phone calls, emails or even manual tasks like sending a gift once they hit week 4 of your program.  A side benefit of a super detailed map is that you can see where you can improve in order to create even more sales and build even better relationships with customers.
What also happens in this process is that you discover the features of the software that you need to have in order to successfully automate your client experience.  Because you will know what you need, you will feel empowered as you interview different software companies.
So you see, the brand of software that you use for your marketing automation is really not as important as first knowing what you want to do with it.
Your Automation Assignment
Have you mapped out your client experience yet? Make a flowchart or map so you can start identifying opportunities for better sales and ways to build better relationships with customers.  Also note that your customer experience map isn't static. It's dynamic and changes over time. This means that it will need to be changed and updated from time to time.
Jen Levitz is a Strategic Automation & Marketing Consultant and founder of Automate With Love. Through her workshops, courses, speeches, and coaching programs, Jen helps her clients to effectively use technology to build strong client relationships and sustainably grow their businesses. She integrates and optimizes technology systems so that rapidly growing businesses can launch successful marketing endeavors throughout the globe. To hear more from Jen and learn how to serve more clients, make more money, work less hours, and have more fun, visit: www.AutomateWithLove.com
As entrepreneurs, we are dedicated. Right??
Go-getters. Driven (in a good way), willing to serve our clients and give more value than others.
And at the beginning, we'll often be (overly) accommodating to prospects and clients to get them in the door, and we'll do whatever it takes to please them so that they sign up and stay.
And hallelujah! It actually works!
This type of bending-over-backwards gets them in the door; they refer people and they stay. It's wonderful (at first).
But then, after a while, you begin to resent being so "flexible" and "accommodating," and unbeknownst to the client(s), the relationship begins to feel toxic to you.
So, what do you do in these types of one-sided client relationships?? Click on the video below for the answer and to watch my new strategy:
Listen, I get it. It's a conundrum.
On one hand, something's gotta change. This level of "service" is just not sustainable and prevents you from growing your business and keeping your sanity.
On the other hand, expressing your resentment or making changes could mean losing those clients. And you don't want THAT!
The elegant answer to your great-client-turned-toxic-client issue is in today's 5-minute strategy video.
In it, I share with you the story of one of our Client Attraction Business School students, "John," who felt like he was at the beck and call of all of his clients, continually bending over backwards at all hours of the day and night.
He felt trapped in his business, and wondered if he should throw in the towel and give it all up.
You'll get to hear exactly what we did (and what you can do too) to set some boundaries with those clients and graciously stop people pleasing, for good.
The good news is that even if you are experiencing this right now, even if you are stuck in a cycle of being constantly present for your clients, I'm here to tell you that you can make a change. It's not too late to take back control of your business!
After watching today's strategy video, please share with me in the comments:
What have you allowed clients to do to you that you no longer find acceptable and how will you change that?
This is a topic that is near and dear to my heart, so I am super eager to read your comments and love you up!
Sending you lots of hugs,
Fabienne
p.s. Hey, do you know of an established entrepreneur who is answering emails on Saturdays and Sundays, getting phone calls and messages from clients at 10:30 or 11pm, and who sacrifices their personal time just to keep their clients happy? Please send them this blog with love and let's help them make some changes, OK? Thanks so much for being so awesome. You rock. xoxo
I'm flying sooooooo high!
Just got home after wrapping up my three-day Mindset Retreat in Florida.
While my body is physically tired (I napped 3 times this weekend!), my heart is bursting with joy.
The feedback from the 350+ attendees, about how life-changing the Mindset event is, was incredibly moving for me, as it is every year: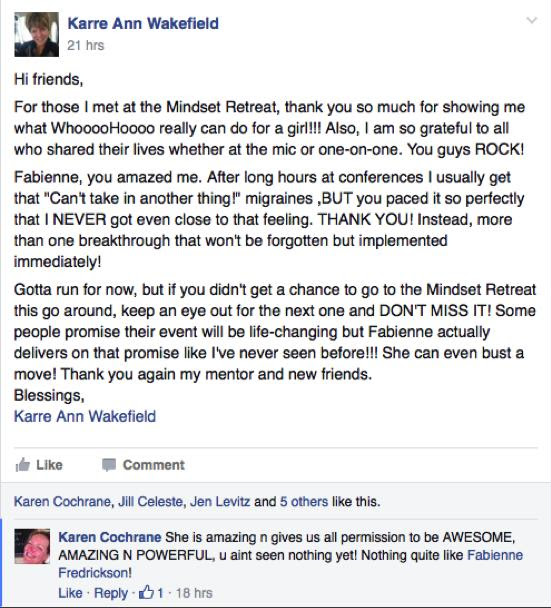 And together, the attendees and I increased the number of schools we're building in Kenya, Africa to a total of 16 schools, educating thousands of children who would otherwise never experience the life-transforming power of an education, clear water, medical attention and nutritious meals daily.
As I hugged each of the hundreds of attendees good-bye, many told me with eyes welled up in tears that this event will have a lasting impact on them, for the rest of their lives.
Hey, just checking, were you able to join our livestream session on Friday?
I made available a session of the event as a sneak peek, behind the scenes, "backstage pass" for those interested in learning a little more about Mindset Retreat and its results, even though they couldn't join us. Did you see us live?
If not, because many are asking, we have the recording of that session for you here:
Just click here and you'll be directed to the "live session from stage" replay.
I hope you take advantage of this peek inside the Mindset Retreat event and GET INSPIRED!
And maybe, just maybe, I'll see you there next year or perhaps we'll even start working together before then? 😉
Have a great day, and let me know what you think of the broadcast!
Hugs,
Fabienne
p.s. During this session, I invited some students from The Client Attraction Business School™ to share their inspirational success stories on stage. I hope these stories inspire you too and remind you that anything is possible when you step up to change your mindset and play a bigger game.
I believe every entrepreneur needs that reminder from time to time – so this is my gift to you. Enjoy this session!
I just poked my head into the Facebook group for the Mindset Retreat attendees and they are SO excited to get together in Florida this week. Here's a post by Kellie, whom I adore:
We've been seeing notes like this one all week…
With Mindset Retreat just around the corner (it starts this Thursday), I wanted to be sure you got my invite last week to join us for a bit of it, at no charge…
Click here to RSVP for free for this Friday's livestream.
I'm inviting you to eavesdrop on several hours of the Mindset Retreat experience. Maybe you're just a bit curious as to why people would come to this 3-day event, three and sometimes four years in a row? Often from across the globe?
And maybe you feel like being inspired? Well, you can now access a few hours of this transformational (even legendary) 3-day experience.
And I promise you're going to be inspired and stretched to think bigger about what's possible for your own business (and life).
Here's where you click to register for free.
The date and time are below (plug this into your calendar as soon as you register so you don't forget or miss it):
Mindset Retreat™ with Fabienne
"Live Video Broadcast from Florida"
Friday, October 9, 2015
4:00 to 6:00 p.m. EDT
(That's 3:00 to 5:00 p.m. CDT; 2:00 to 4:00 p.m. MDT; 1:00 to 3:00 p.m. PDT) 😉
Why free? It's my way to get this message out there in a bigger way, especially because I live to give content that acts as a catalyst for people's success.
And two, in full transparency, I believe that if you're inspired by what you hear, perhaps you'll want to join me live and in person for the whole 3 days next year or work with me in the future. That's why. 😉
Either way, it's going to be great for you… something to work on until we (perhaps) see you next year. You're going to love it!!!
Here's the link again to register to eavesdrop on part of the event at no charge.
Can't wait to wave to you from stage! Bring a big notebook for notes, OK?
Big hugs,
Fabienne
p.s. In addition to the content, you'll get to meet successful students currently in The Client Attraction Business School™ who'll share their own moments of inspiration.
They're normal people doing extraordinary things as a result of upgrading their mindset and committing to their business. It may be the shot of inspiration you've needed for your business. Enjoy! See you Friday! Here's where you RSVP for it.
Today I want to share with you a defining moment in my career.
It's not a story I'm particularly proud of, but one that taught me a valuable lesson I still pull from today.
And it has positively affected my writing ever since. So, here goes:
A few years ago, right before a new 3-day event I was hosting for several hundred people, my assistant reminded me that the printer deadline for the attendee binder was in a matter of days.
My face went white. My throat went dry.
Days???
The final presentation and written materials? Now??
Are you joking??
Sadly, she was not joking.
Apparently, through a series of miscommunications, I hadn't realized that I was supposed to have prepared the binder – several hundred pages' worth of life-transforming content – by the agreed-upon date.
And the printer needed said materials in just a few short days.
Or else, no binder.
I panicked.
Then I cried.
Then I panicked some more.
But after a few moments of a serious meltdown, and pointing the finger at others, and then at myself, I realized that this reaction wasn't going to solve my problem.
I realized that to get everything done, I needed to create a new, miraculous content-writing plan.
And I'm happy to report that did it. I wrote it all in less time than some people write a 3-page article.
How?
This week's 5-minute video shows you how I successfully managed to write a huge amount of content, even under the most pressing of deadlines.
(If I can do it using this formula, so can you.)
What's so great is that the process I came up with that day (to write in a ridiculously short time what would have normally taken me weeks) is a process that I still use today.
After you've watched this video, I'd like for you to tell me in the comments below:
When you write content (or when you do any other important business activity), what is that 80 percent of wastefulness? And going forward, what can you do to streamline, reduce or reuse in order to make wasting time a thing of the past?
I can't wait to read your response in the comment section below… I'll see you there!
Sending love,
Fabienne
P.S. Speaking of, maybe you wanted to join me at my 3-day Mindset Retreat next week, but you weren't able to make it happen. Well, I have good news for you. I have managed for you to be able to eavesdrop on it. Next week, I'm broadcasting a session live from stage and I'd like to give you a free "backstage pass" to the Mindset Retreat to join us from the comfort of your own home or office (all you need is a computer and internet connection). Sound good? You can register for your free backstage pass here. Enjoy!