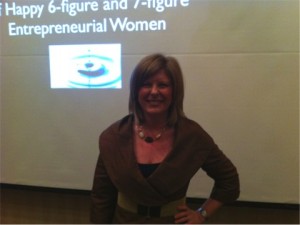 Hundreds of entrepreneurial women were in attendance at the CT Women's Conference in Farmington, CT last Thursday and I was honored to be invited to speak about what it really takes to go from 5-figures to 6-figures, and then to 7-figures in your business. The response was really heartwarming. In some small way (or maybe even profound way) some lives were changed yesterday, and that's why I do what I do.
One thing I shared with them all is that to grow your business, you must master Compelling Marketing that PULLS ideal clients in, rather than continuing to push so hard to get clients. There's a big energetic difference and the marketing skill is a learnable, teachable skill that can be mastered quickly. To learn how to do it all in an authentic way that honors your prospects AND honors you at the same time, I spoke to a few of them afterwards about my affordable "Get More Clients" 2-day Marketing Workshop in Stamford, CT in a little less than two weeks. It's where I teach my entire tin-depth techniques and where we do a lot of the work in the actual workshop, so you can go home and plug it all in effortlessly. Just 10 days until we close registrations… Curious? You can get all details, see success stories and register here.
Speaking of getting more clients, have you watched my high-content, high-value, NO CHARGE WEBINAR? In it, I share with you some of the secrets you'll learn at the workshop I just mentioned. I recommend getting a pad of paper and a pen, and making time to watch it asap, before we take it down soon. Here's where you can watch the webinar from the comfort of your own computer.
On a more personal note, we moved our offices on Friday to a swanky loft-like space, about a half mile from our home. It's very exciting and we all have a great feeling about what this will do for our business. Thank goodness the move is all handled by our fabulous assistant! I'll post pictures as soon as we get out of boxes.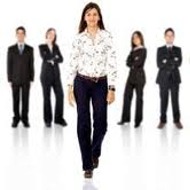 In recent years, I've been working with a new kind of client. Yeah, yeah, you can say, "Fabienne, you've talked to me about ideal clients before. I know that I need to figure out who my IDEAL client is." But wait! This is different. Today, I want to share with you the exact KIND of client I work with and why you should too.
For years, I've attracted a whole host of clients, many of them startup entrepreneurs who were in desperation mode and needed to be saved. These people needed clients BADLY and looked to me to hand them a life-raft to stay in business. (more…)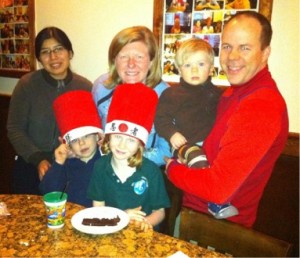 My daughter Claire turned 8 years old last Monday! Derek and I are so proud of the young lady she is growing up to be. We celebrated by taking her out for dinner at a Hibachi-style Japanese restaurant. At first the kids were a little confused by the antics but that quickly changed and we enjoyed a yummy (and entertaining) dinner.
The next day it was off to Toronto for my Client Attraction VIP Coaching Intensive. I spent the day coaching and strategizing with a small group of take-action entrepreneurs – what transformations! I then turned around the very next day for a full day of masterminding with my own mentor for my business. Together Derek and I put together our breakthrough plan on actually revolutionizing how we will offer our Client Attraction services in the future. Our mission is to be the global leader and resource for women business owners who want to get more clients and make more money. I'm so excited about the future and I'm thankful for days like that that stretch me to play really, really BIG.
You're probably like me. Deep in my heart I know that in order to get to the next level of my own business, I can't do it alone. I need the support and resources of a mentor and fellow mastermind members who have already achieved (or are close to achieving) what I want for my own business. And can I be completely frank with you? You need that too, whether you realize it or not. If you're ready to be part of a mastermind group that will support you as you get to the next level of your business (regardless of what level you're currently at), I invite you to take a look at the Winners Academy and join us.
Clients are always so curious about how I manage to get it all done. And it's no wonder because now that I see it all down on paper, it does seem like a lot. But, before you think I've got it all figured out, let me be very transparent with you. I have a crazy number of emails in my inbox, many of which need answering. And every so often, a few things fall through the cracks. Hey, I'm human after all, but I'm better off than I've ever been before.
What I realize from coaching people over the years is that I have indeed figured out a few things about getting it all done, or at least, a lot of it done, while still having sanity and a lot of fun in my life. It's all about BOUNDARIES around time, with others, but mostly with me. (more…)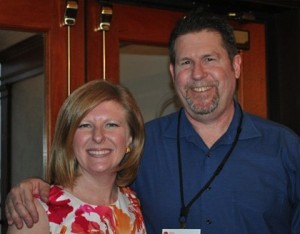 Last Thursday, I hosted my Inner Circle members and top Client Attraction affiliates as my special guests for our one day intensive. Attendees flew in from all over the country and the world for this one day event, as far as Puerto Rico, Sweden, the U.K. and I taught them my latest and most profound client attraction principles, with lots of high-level networking, strategizing and a hot-seat makeover. I was really moved when so many of them told me afterwards that this one-day changed the course of their business.
How about you? Would you like to experience some of the same high-value content that will make a huge impact on your own business? The good news is, you absolutely can – and all from the comfort of your own sofa. Here's how…
This coming Wednesday, I'm hosting a my very first, one-time, live webinar where I'm revealing EVERYTHING about 1) why you don't have all the ideal clients you want right now (clients who pay you what you're worth and who refer lots of others to you) AND 2) what you can do to change it all around immediately. It's taking place next week – Wednesday, March 16th at 8pm Eastern. So clear your schedule because this is THE year you begin to make a lot more in your business, and never have to wonder where your next client will come from every again. Get all the details and register for my new WEBINAR here. See you on Wednesday!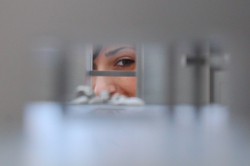 Whether we admit to it or not, we as humans love things like gossip, soap operas, eavesdropping, sharing secrets, peeping, and Entertainment Tonight (basically, everything on the E! cable network). And let's not forget People Magazine—yes, I read it religiously every week. Why are we obsessed with this as a culture? It's the human interest. It's finding out about OTHER people's lives, the intricacies, the quirky little details, the strange ways of being. Sometimes we're looking to see how DIFFERENT others' lives are. Perhaps we're aspiring to be like them, or maybe we're ridiculing them. Sometimes, we're just looking to see how SIMILAR their lives are. ("Hey, celebrities go grocery shopping too?") (more…)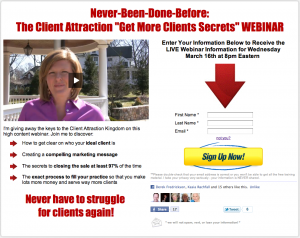 I am thrilled to be hosting my first-ever Client Attraction webinar next week.
Did you see my announcement? Click here to find out more: http://www.theclientattractionwebinar.com
Never-Been-Done-Before: The Client Attraction "Get More Clients Secrets" WEBINAR
I'm giving away the keys to the Client Attraction Kingdom on this high content webinar. Join me to discover:
How to get clear on who your ideal client is
Creating a compelling marketing message
The secrets to closing the sale at least 97% of the time
The exact process to fill your practice so that you make lots more money and serve way more clients
I hope you can join me for an amazing high-content and high-value packed webinar! See the video to register: http://www.theclientattractionwebinar.com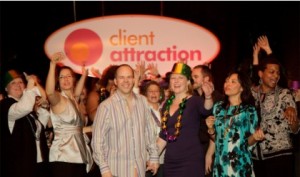 Woohoooo!!! Last week we held back-to-back mastermind meetings – and what a week it was! We kicked it off with our amazing Gold Mastermind members, affectionately known as our "Goldies." After a full day of live teaching and coaching (focused on making more money, getting more clients) and collaboration, breakthroughs, support and great work, we put on our dancing shoes and Mardi Gras beads, feathers and masks for a night of food, fun and celebration. We enjoyed lots of yummy New Orleans-style food at our "Make-Your-Own-Gumbo" bar and the fried catfish was delish, not to mention the traditional Mardi Gras "Hurricane" cocktail. We had sooooo much fun!
And I'll say this. When you're masterminding among like-minded people who want you to grow your business, who support you, and really understand you, it's so easy to be able to let loose and be yourself! I think everyone really felt that on Tuesday night. Remember to balance out all your hard work with fun celebrations – it's critical to your success.
It's probably time for you to make more money, and get more clients too – not to mention some celebrating as well! My April Get More Clients Workshop on April 4 – 5, 2011 is just the thing to have you fill your practice quickly, with ease. In just 2 focused days, I personally reveal and show you EXACTLY how to use my step-by-step Client Attraction methods to always have a consistent stream of ideal, high-paying clients, a waiting list of prospects and how to systematically and authentically close the sale virtually every time, so you never EVER worry about how to get ideal clients again because you earn more each month than you ever imagined, and you finally experience peace of mind and financial security. We're nearing capacity, so you want to act fast, before we fill up. Take a look at all the workshop details and see dozens of success stories here. Then register to join us.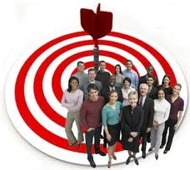 Ok, so you've identified your ideal client profile. The question you now have to ask yourself is, "Have I chosen a viable target audience?" meaning, is it actually worthwhile to market to these people?
You can have all the focus, drive, and good intentions to market to a group of people, but if they're not easily reached in large numbers and inexpensively, if they don't congregate often or they're too difficult to locate, it's going to make your Client Attraction attempts much more difficult. (more…)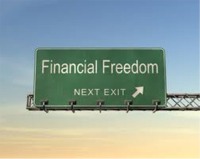 I often stand on my soapbox and tell you how massively important it is to put a majority of your focus on marketing if you want to be successful. But don't get me wrong. You ALSO have to focus on your finances, if you want to become wealthy. In fact, it's massively important that you set aside money, for taxes, and for your retirement. Thing is, you also want to take your family away on a vacation or buy yourself some beautiful things. (What's the point otherwise?) 'Dealing with money' can be overwhelming, especially when you don't understand what your options are, and what the consequences of your financial decisions could be. On this month's Special Topic call, you'll discover the common mistakes entrepreneurs make when managing their finances, simple ways to develop an investment game-plan (including a spending-and-saving plan) that works for you, and how to work with your trusted advisors: Advisors, Bookkeepers, Accountants, Attorneys and more. If you don't have a game plan for this part of your business, and you want to be able to spend when you want, then do whatever you can to attend this high-content call!
This call is ONLY for Inner Circle members. Not a member yet? Join now to access this call with Fabienne's FREE 2-month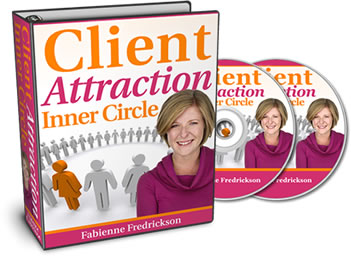 Membership trial (plus a small shipping/handling fee).
When you join, you get access to monthly Q&A calls with Fabienne AND well over 3 years worth of special topic audio, transcripts, forum posts and bonus calls with Fabienne each and every month.