Spending some yummy quality time with baby Oliver (and writing my book) while Derek and the kids ski every day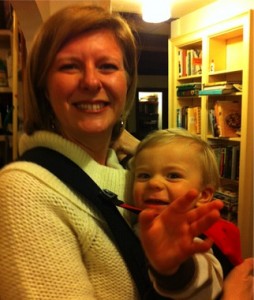 Happy New Year!
I hope you had a wonderful holiday. I'm spending a couple of weeks hosting family and friends and spending so much time with the kids. For Christmas, we hosted family for our traditional Swedish Smorgasbord (think traditional Swedish mulled wine Glögg and endless courses eaten by a roaring fire.) Then, our friends started arriving for the New Year celebration. We were about 12 adults for New Year's and it was a blast. You have to live life like you mean it, so once again we rolled up the carpet in the great room around midnight and moved furniture for some late night dancing! It was so much fun! Hope you had great time tonight too…
Hey, amidst all the parties, I just want to make sure you take some time this weekend to really map out what you want to create for yourself this coming year (this article will show you how). I'm carving out about a couple of hours on Sunday to do the same. It's going to be a great year ahead!