At a Broadway show during our New York 'stay-cation' last week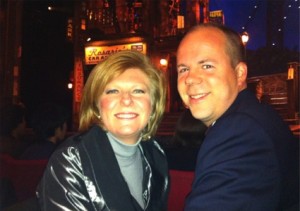 Derek and I went on our quarterly mid-week 'staycation', going away without getting on a flight, this time to New York City. We believe in taking time for ourselves as a couple to connect — if you have kids, especially 3 or more, you know there's not a lot of 'couple' downtime, especially as entrepreneurs! So, last Monday, a luxury car took us into Manhattan in style and we stayed for two nights in a suite at the sumptuous Trump SoHo hotel. On the agenda? We focused on togetherness, walking around town, shopping, fine dining, an indie film, a Broadway show, and more yummy meals at several favorite restaurants. Oh, and we made sure there were no phones, no tweeting or texting, with heavy emphasis on complete and utter relaxation and connection. It was bliss and 2 days felt like 5 days!
Were you on the BIG call last Thursday night on Client Attraction Mindset? It was one of the best calls I've ever done, with over 2,500 registered for the call. You can listen to the recording here if you missed it. At the end of the call, I launched (for the first time ever) my Mindset Retreat workshop-in-a-box, the at-home version. This is ALL of the content from my live retreat that was held this past September in Miami. It was a blockbuster success and I'm proud as can be to offer this to you – including *13* DVD's and *22* CD's of the live event, including ALL the exercises and resources the live attendees got, so you can play along at home too, listen and watch as if you were there live with us. You can view a 57 minutes *all content* video presentation of me on stage the first day of the Mindset Retreat to get a taste for how transformational the content was. You can access that video here, for a limited time.