The Client Attraction System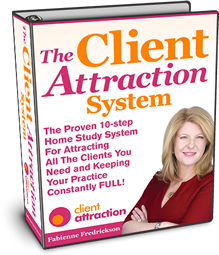 The Client Attraction System (CAS for short) is a complete and step-by-step course that shows you exactly how to attract all the clients you need by maximizing your marketing and Client Attraction efforts to the highest level, so you start getting a lot more clients and customers while making a lot more money than you're making now. By transforming your marketing over a very short period of time, you immediately transform your business, your income, your life and the legacy you can leave in the world.
Watch the video below to learn more…
Close
Sign me up for my audio CD!
Find out how to use my step-by-step Client Attraction methods so you can be a success.