For Coaches, Consultants, Small Businesses
and Self-Employed Professionals (or Those Looking To Successfully Start a Small Business):
"In just 10 short weeks and for the rest of your business career, you too can attract all the clients you'll ever want or need…
You see, after I personally walk you through my proven Client Attraction System® and mentor you step-by-step to attract all the ideal, high-paying clients you want and make more money in your small business, you'll never worry about getting clients again. (Oh, and I'll teach you all these Client Attraction secrets myself for LESS than a pair of designer shoes. Yes, really. Read on…)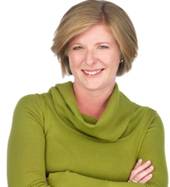 Introducing a one-time-only offer to participate in my 10-week Client Attraction audio training taught personally by me.

I've crafted this program to be so valuable for you, create the best results for you AND priced it to be so affordable that you cannot NOT do it. Guaranteed."
---
From: Fabienne L. Fredrickson, Stamford CT, USA
Dear Entrepreneur (or soon-to-be Entrepreneur):
Do you wish you knew the previously hard-earned secrets of Easy Client Attraction?

Let me guess… You're probably a coach, consultant, small business owner, soon-to-be self-employed professional or stay-at-home mom looking to make some money on the side who…
Wants to attract more clients to your small business, without working as hard as you're working now…

Wants to fill your practice quickly and consistently in the quickest and most efficient way possible…

Needs to become instantly credible in your own business and industry WITHOUT having to go back to school…

Wishes you could figure out your own NICHE and expertise in the marketplace that will get you clients effortlessly…

Wants to discover how to fish where the fish are and stop fishing in the wrong pond for clients…

Needs the key to my secret process for becoming a master of the Soft Close, close the sale virtually 97-98% of the time and not ever being sleazy during the process…

Understands that it's crucial to organize WHAT you offer so it's clear, concise, and makes people really WANT to work with you…

Wants to master the secrets to getting clients to stay longer with you, as opposed to taking what they need and leaving like bandits in the night…

Wants to eliminate the self-sabotage you're currently encountering EVERY SINGLE DAY that keeps you from getting all the clients you need…

Wishes you knew the simple strategies needed to consistently GET OUT THERE in a big way and get clients to come to you…

Is eager to finally end the feast-or-famine syndrome you're currently experiencing and create systems so your marketing goes on AUTO PILOT, all year round, each and every year, completely effortlessly on your part…

Wants to master the Mindset of successful entrepreneurs, so you too can get out of your own way, and make a lot more money in your business, even if all you want is just a part-time thing to stay home with your children.
Most importantly, do you thrive and do much better when you have support, accountability and encouragement from others who truly believe in you and want the best for you?

Then you saying YES to the opportunity you're reading about now is going to change the way you market and make money in your business, FOREVER. I'm not kidding. Here's why:
Like many solo-entrepreneurs, or soon-to-be solo-preneurs, you're probably lost or frustrated when it comes to marketing and attracting clients
You've read all the articles, bought the requisite e-books and courses, attended tele-seminars, workshops, and conferences, but like most, you're not making as much as you'd like from what you learned, or you're barely able to make ends meet.

Here's why…

When I ask people just like you why they're not yet succeeding, they say there's actually TOO MUCH information out there, that it's totally overwhelming and they don't know where to start.

What I'm also hearing is that it's sometimes difficult to implement when you get pulled in different directions by bright shiny objects, and you don't know where to start.

What you're missing is someone to take gently by the hand and show you EXACTLY what you need to do, how to do it and in what order. Step-by-step.
Not only do you not know where to start, but you have no
accountability in getting things done.
You see, attracting lots of clients is not about gathering as much information as possible, it's about actually putting that information to use, one foot in front of the other, so you can start getting results.

When you don't have someone keeping you accountable to your tasks or goals (especially when it comes to marketing!) you push marketing off to the back burner. And when you push marketing to the back burner, you just don't get clients. Simple enough.

How many times have I heard, "Fabienne, what I especially like about working with you is that you keep me focused, you help me custom-design my marketing materials and you keep me accountable."
Then, to make it worse, you probably get stuck because you need guidance, feedback and brainstorming from an expert mentor and other peers to move forward powerfully.
Sometimes, you just need some serious FEEDBACK and someone to BRAINSTORM with! Someone to kick around some ideas with; someone who'll tell you the truth about your marketing. Just the power of a group makes all the difference (especially for solo practitioners!)

Face it, you can't do it alone. You've tried and it hasn't worked as well as you would have wished. In fact, here's a quote I'm fond of sharing:

"Call it a clan, call it a network, call it a tribe, call it a family. Whatever you call it, whoever you are, you need one." ~Jane Howard
Are you ready for the tried-and-true, proven systems, support and accountability you need to get clients to come to you, without you chasing them, feeling desperate?
Great! That's where I come in.
I know the proven systems and strategies that, when properly followed and implemented, will bring you all the clients and income you've always wanted (and more), whether you're looking for a little extra cash to pay for a babysitter and go on a date every week, OR to ramp up your business to full capacity, within a VERY short amount of time.
You may not know me very well yet, but I used to be where you are right now.
There was a time in my business, as a self-employed person back in 1999, when I didn't have enough clients. Sure, I had SOME clients, enough by most people's standards, but not enough to pay my big-city rent AND my bills each month.

The credit card companies were calling, asking for payment almost on a daily basis. Every time I heard those messages on my voicemail, my stomach would literally turn into knots. It became so frequent that I sometimes didn't want to answer the phone. I tossed and turned at night with what I call "the 3:00 a.m. I-don't-have-enough-clients sweats." (Have you had those yet? They're not fun.)

One day, after too many sleepless nights, I hit rock bottom. It was "figure it out or throw in the towel." There was no alternative for me. I wasn't willing to go back to Corporate, so I made a commitment to learn everything there was to learn about self-marketing and Client Attraction. I took every course I could afford, read every book I could get my hands on; I searched the Internet and went to see every speaker I could on the topic.

Believe me; I worked my BUTT off trying to figure a system that would get me clients every time. More than once, I cried from sheer exhaustion and total frustration.

The problem was, there wasn't ANYTHING available out there that could teach you the ENTIRE process it would take to attract clients, get them to pay attention to you and your marketing message, teach you how to stay on course with your marketing (and not get sidetracked), close the sale virtually EVERY TIME, and create systems so this would all happen over and over again, guaranteed and without fail. Nowhere was this information available in ONE place!

So, being a natural problem solver who believes in SYSTEMS, I made it my task to put it all in one place, without holding ANYTHING back. I wanted to create a process that I could replicate over and over again, so that I never had to feel this feast or famine again.

I wanted each step to be verifiable, repeatable, and I wanted it to work, darn it! Lo and behold, I figured it out! I filled my practice to 31 clients (capacity) in less than 8 months.
I'd cracked the Client Attraction CODE! Now, Client Attraction is EASY as pie.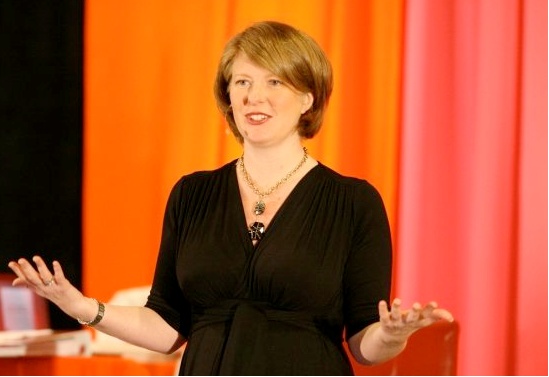 Today, I run a multimillion dollar coaching business, bringing in 6-figure revenues monthly, working less than ever I did back when I first started and didn't have enough clients. And everything I've created for my family and myself is based on my proven Client Attraction System® principles. I'm living a life of fulfillment, service and joy, working with ideal clients.

Best of all, I close my office at 5:30 p.m. every day to play with my 3 kids (Oliver is the youngest at 14 weeks), which is something I could never had done without finding marketing SYSTEMS to work for me instead of me working for systems. It's honestly been a dream come true.


Knowing what I know now about what it takes to attract lots of clients, I want to ask you ONE question:
Seriously, did you really start your own business to work like a slave the way you would for someone else?
I'm sure you want to spend more time with your friends and family, to enjoy the things you love and just have more fun! (Like I do with my husband Derek, my daughter Claire and my sons Luc and Oliver.)

The only question is… Are you willing to discover how to make it all easy, once and for all? If your answer is "Yes!" then you're going to get so much value from…



"I Discovered how to package my coaching into 6 month programmes so that I'm paid upfront or am paid a recurring monthly fee on auto-pilot!."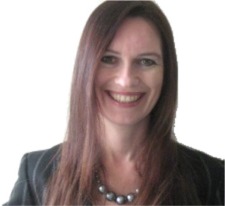 Before the bootcamp I was attracting some good clients online but it wasn't consistent and I was billing by the hour. Since completing all the modules I had many AHA moments, the biggest of which was discovering how to package my coaching into 6 month programmes so that I'm paid upfront or am paid a recurring monthly fee on auto-pilot! That way even a couple of good new clients can seriously boost your bottom line and you're able to predict your client income. I recommend Fabienne's courses very highly and am so happy I took the bootcamp.

Rachel Henke
www.RachelHenke.com
"After Working With Fabienne and Her System for Less Than Three Months,
I've Already Signed on Seven New Clients."


"There are so many accolades I could give about Fabienne Fredrickson, but why not tell you the most impressive? After working with Fabienne and her system for less than three months, I've already signed on seven new clients. Not only does she give you the formula for how to attract clients in record time, her materials and resources alone are worth the price of her services.

Fabienne has saved me weeks and months of trying to re-invent a wheel that she has mastered and generously shares the how-to. Her coaching is a must for every professional in a service business."

Jane Pollak
www.janepollak.com
"The Results Have Been Amazing and Quick!…Fabienne Is a 'Results Producer'."


"Before I started working with Fabienne, I was at a plateau in my business. My business had grown but it was not where I wanted it to be, and no matter what I did wasn't making much of a difference. I was frustrated, and knew it was time to reinvent myself and didn't know how to do it on my own. I hired Fabienne because I had seen her speak and knew from what she said that she was just what I needed to jumpstart my business, find my niche and attract more clients. In the 4 months I've been working with Fabienne, I've developed a new sales system, added 4 new clients, sold 2 new training programs, and redesigned my website.

The results have been amazing and quick! I've previously worked with 3 other coaches and never accomplished so much in such a short period of time. All I can say is that Fabienne is a 'results producer.'"

Rochelle Togo-Figa
www.theproductlaunchpartner.com
"I've finally found my mentor!"

"I've taken marketing courses in college and I've been in the sales & marketing field for almost 20 years and I must say that hands down, Fabienne is a true marketing guru. Her system is so clear and easily executable that after only 10 weeks, I had a solid marketing plan in place. I was very excited about implementing the strategies she taught because I truly believed it would deliver huge returns for my business for years to come.

The program made marketing FUN rather than work! Fabienne truly provides high content - high value in everything she does in such a gracious, inspiring and AUTHENTIC manner. I'm so grateful to have the information, tools and resources available to me today to help grow my business.

If you're on the fence about which program will help you start attracting more clients in your business, I highly suggest Fabienne's Client Attraction Bootcamp. It's totally worth the investment."

Karla Ilarde
www.www.theproductlaunchpartner.com
The Client Attraction Bootcamp:
Client Attraction Made Easy
The Bootcamp is something I created to help those who wanted to attract lots of clients, continually have a full pipeline of prospects, make more money, and get support, encouragement, direction from me and others, without breaking the bank.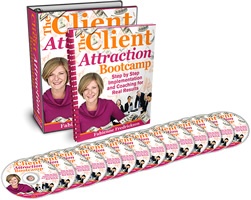 You see, I've been approached many times over the years by self-employed people, just like you, who want to discover how to get clients consistently, but they simply didn't have the means to pay my private coaching fees.

So, after lots of creative brainstorming, I created a program that would leverage my time, while giving you high-value and all the tools required for you to get the same step-by-step information as my private clients get, at a really affordable price.

This program is a 10-session supportive and encouraging "audio training classroom", where we cover all 10 steps of the Client Attraction System® as a supportive group, to help you get more clients, in record time and consistently.

Consider this "Bootcamp" audio training to be like the Cliff Notes® of the Client Attraction System®, a condensed version of valuable tools, countless books and seminars all rolled into one easy-to-implement program.


It's the Quick Start to get you more clients and a higher income.
By attending and implementing the simple lessons from this 10-session crash course of ME teaching YOU my Client Attraction System®, you'll drastically reduce your learning curve and shave off years of reading, research and expensive trial-and-error.

Instead, you'll walk away with everything you need to attract all the clients you need, in record time. Guaranteed.
Here's what we'll cover in the 10 weeks of the Client Attraction Bootcamp:
Attracting a consistent stream of new clients begins with understanding what interests your ideal client; what their major struggles are, and what will make them buy your services. Then, it means taking serious action on it. Here's what the Bootcamp will teach you to do:
Module 1: Make Client Attraction a priority
We examine when in the day (and how) you are making time for marketing and Client Attraction, make room in your schedule, prioritize your daily task lists, schedule in follow up time, put a pause on non-essential "leaks" in your marketing bucket, so you can fully invest yourself in growing your business. We then maximize how you use each day so that you make the most of every minute you have. Essentially, we clear the decks for what's most important.
---
Module 2: Strategize your unique positioning in the marketplace
We will examine exactly where you are positioned in the marketplace, what your "compelling story" is, what will motivate prospective clients to work with you, what makes your services unique, who your competitors are, what makes you different from them. We will also spend time with figuring out what you offer specifically in terms of results and benefits to clients
---
Module 3: Craft your client profile
I will teach you exactly how to find out exactly who your ideal clients are: the WHO, WHAT, WHY, HOW of what makes YOU their problem-solver, as well as the best ways to reach them in large numbers and inexpensively.
---
Module 4: Construct your compelling marketing message
In this module, you'll discover exactly how to craft your marketing message, tagline and an elevator speech that grabs attention, making people call YOU as opposed to you chasing after THEM.
---
Module 5: Package what you know and do
We'll take stock of your services, what you offer, what you know and turn these into irresistible programs, packages and systems that make prospective clients sit up, take notice and want to work with you. We also look at positioning what you offer in packages and programs, how to price your offerings so they sell themselves and bring you more money than you're currently making.
---
Module 6: Create PULL marketing materials
Here, we will have you see that it doesn't work to PUSH your services and get you to start PULLING your clients in with specific materials and techniques that REALLY SPEAK to them.
---
Module 7: Get out there in a BIG way
I will share with you the crucial know-like-and-trust-factor and start educating your environment and personal advocates in how to send you referrals. We will also examine everything you need to do to get out there getting clients and to stop hiding behind your desk.
---
Module 8: Create your Marketing PIE
We will spend considerable time "fishing where the fish are" and putting together an extremely specific plan to reach your ideal clients, using your compelling marketing message, and do this easily and inexpensively. This includes referrals systems and strategic alliances. Once that plan is in place and running smoothly, we will add different marketing arms to it to increase your client base consistently.
---
Module 9: Become a master of Closing the sale
It won't serve you to put so much effort into marketing and Client Attraction if you don't know how to close the sale properly. Here, we take you step-by-very-specific-step through the Soft Close that wins them over every time. This step alone will start making you more money than you're making now.
---
Module 10: Implement systems for consistent action and results
There is never a time you will stop marketing completely--unless you want to not have clients. The good news is, we will implement true systems to make sure it's never time-consuming or full of effort. The systems we put in place will almost run by themselves and soon, you will be literally picking up the phone and signing on new clients you didn't even know. Congratulations!!! Your Client Attraction System® is fully in place and you'll never have to worry about clients again.
These are the steps of The Client Attraction System® that I've created after working with thousands of independent service professionals over the last 10+ years to help them attract all the business they needed.

In addition to these 10 modules, you'll learn tons of things to manage clients more easily, to make your time work for YOU, to close the sale without feeling like you're selling, to work smarter not harder to eliminate the fears and self sabotage holding you back, and set up systems for making more money in your actual business AND in your Client Attraction efforts.


"I'm Enjoying More Money, More Clients…I'm Building a Large Client Base."


"Working with Fabienne has taken my business to a level I never imagined. I'm enjoying more money, more clients, more fun, a clearer identity in the marketplace, and clear, easy articulation about my services and why they are unique and effective. I'm working smarter, not harder.

Before working with Fabienne, my marketing and promotional efforts were inconsistent, more or less hit or miss, I wasn't reaching new potential clients and I was trying to be everything to every potential client. Since working with Fabienne, the tools I implement are effective; I am consistent and efficient in my efforts; I'm building a large client base; we look at ways to continuously improve my services; I reach the ideal clients quickly, inexpensively and effectively. Since then, I have more clients; I am implementing tools that keep a steady stream of potential clients finding their way to me, with little or no effort on my part; I not only understand now what marketing is, I see how effective it can be and I like doing it.

Working with Fabienne isn't magic or even rocket science. She's consistent, effective, always learning about what works better, smarter and faster and she passes it directly on. I would be delighted to speak to anyone who wants to hear it from the horse's mouth (a real live client) that she delivers on her promises."

N. Brooke Lieb
www.brookelieb.com
"Working with Fabienne Is the Best Investment I've Made In My Business and Myself"


"Before I started working with Fabienne and implemented her Client Attraction System™, I knew exactly where I wanted to go (or so I thought) with peggiespets.com. I knew that I wanted more clients, in less time and I wanted to prove to others (and myself) that a pet-care business was not only a 'nice little idea' but was a viable and lucrative business. Since working with her I have not only attracted more clients and made more money than I had planned for this year, but I have been able to focus more on my life-work goals more than I ever thought possible!

Fabienne is a tireless cheerleader, a savvy business woman and a lover of life. Her enthusiasm, combined with her bottom-line results-oriented approach, has done wonders for my professional growth by helping me focus on what needed to get done!

She has managed to bring to light some of the dormant skills that I've been longing to use in my professional career and I can't thank her enough for that. Working with her is the best investment I've made in my business and myself and I sing her praises to anyone who will listen!"

Peggie Arvidson-Dailey
www.peggiespets.com

Here's what you get in this 'proven results' Bootcamp:
Weekly in-depth learning


Marketing Content Training Audio classes.

Over a period of 10 weeks, you'll meet with me by audio training delivered on-demand delve deep into one of the different modules of the Client Attraction System®. Together, we'll spend 60 minutes per week of me teaching you the in-depth, simple yet powerful strategies I've been sharing with my private clients for years. I'll give you field-work, simple assignments and worksheets, as well as next-steps to grow your practice quickly. I'll guide you to take the exact steps you need to succeed. That's 10 hours of time with me coaching you.

Module One with Instant Access when you enroll.

($10,000 value)
Your own Client Attraction System® Worksheets.

Each week, you'll receive access to several worksheets we'll be discussing during the 10-week class. These worksheets are for you to use to implement the Client Attraction principles as you never have before. You'll use them to stay focused, stay on track and complete your assignments – getting you to attract clients and build your business SO much more quickly than you ever would on your own.

($65 value x 10 = $650 value)
Access to your Bootcamp peers through an

Online Forum.

You'll have access to all your other peers in the Bootcamp via a collaborative online forum. With this group of peers, you'll get even more feedback, accountability, brainstorming and resources. The advanced networking opportunities in this forum will be a bonus you will come to cherish.

($500 value)
MP3 or downloadable Recordings of every class.

You'll be able to listen to the audio training online or download the MP3. This way, you won't miss any important information. Even better, this also gives you access to the material as often as you like, for truly letting the information sink in. You'll find this especially valuable for the "closing the sale" module, where I'll demonstrate the EXACT script for closing the sale 97% of the time.

($395 value)
Written transcripts

of each and every class.


Some people learn better from reading a transcript than listening to a recording. We totally understand that, especially if you're a big note-taker like I am. Having a transcript of all the content sessions allows you to print up the material and read along, so that you don't have to take as many notes when listening to the recording again. We've made it super easy for you to learn the way YOU like to learn.

($695 value)
Total value of just my coaching time: $16,000.
"OK, Fabienne, I understand that if I coached with you privately for the same number of hours, your fee would be about $16,000. What's my investment for this Bootcamp where I'll learn to attract lots of clients?"
Obviously, coaching a group of people is different than coaching just one person privately. That's the beauty of leverage, where I can help so many more people, for the same amount of time. And that means charging much, much less than I would if you and I worked privately together.

So, here's the deal. With this Bootcamp, I've created a way for me to leverage my time and be able to coach many more people successfully and at the same time. That's why I'm going to give you a huge reduction on your Bootcamp coaching fees.
So, you're obviously going to have to invest $16,000 for this program.

Your investment in my Client Attraction Bootcamp is:
Only $97 for the first month of the program, and 3 easy monthly payments of $97 thereafter.

"Fabienne's Systems, Information and Wealth of Knowledge Are Worth Every Part of the Investment and I Attracted New Clients Immediately."


"I have worked with Fabienne two separate times, and each time, Fabienne is brilliant at helping me put things in perspective and in helping me always build my business. With her help, I stay totally focused on my goals and true to the course (she wouldn't let me do otherwise!).

Fabienne's systems, information and wealth of knowledge are worth every part of the investment and I attracted new clients immediately.

Fabienne's delivery is fantastic and I really enjoyed the process—it was fun. All her information is customized totally for me, my goals and my business…resulting in the success of allowing me to take a 10 month sabbatical!

One year later I am still applying the tools—long lasting effects—I think that is pretty cool!! Fabienne will actually roll up her sleeves and get to work with you, as if it were her own business. She's right there with you, creating your business identity, brainstorming, coming up with plans, and keeping you on track so that you get things done and get the results you need. I love the immediate results! I have recommended Fabienne very highly and will continue to do so."

Dianne Coles
www.imageheart.net
"Working With Fabienne Has Made ALL the Difference in my Business...
I Am Getting More Clients!!!!"


"Working with Fabienne has made ALL the difference in my business. When I first started with Fabienne, I was unfocused, my practice was dying before it even got started and I was overwhelmed with the "day-to-day" strategies of starting a small business. I was working really hard, without any payoff and seemingly in circles. After my first session, I had a sense of direction and clarity and began to move my practice into action!

I now work smart and don't let busy-ness prevent me from getting out there and getting clients, people who meet me at my regular networking events view me as a "notable networker" and a marketing wiz. (Believe me, I did NOT have that before working with her.)

I've gotten things from Fabienne that I never expected to get. She really helped me through the tough times of being a business owner and has always been extremely supportive. When you are out there on your own, it's wonderful to know that you have someone on your side and who's been there herself. Most importantly, I am getting more clients!!!! I'm very OFTEN asked how did I get this or that idea, or I get compliments on my work and professional presentations…I simply say, "Hey, I have a great business coach!"

Karin Witzig
www.KarinWitzig.com
Yes, I know. I'm not charging enough for this program but I wanted you to have no reason NOT to get it. So, I'm even letting you make *EASY AND AFFORDABLE INSTALLMENTS* to help get this into your hands! (Click Add To Cart button for details.)

Remember, when you are considering an opportunity to choose between where you've been and SUCCESS, don't look at what an opportunity costs, look at what that opportunity is WORTH. (That's what I do and it's one of the tactics that has brought me to where I am today, so that's why I recommend it to you)

I can tell you the strategies you'll discover in this program are the EXACT same ones that I consistently use to generate a minimum of $85,000.00.00 - $165,000.00 a month.

What is THAT type of information worth to YOU?
Does this System really work? Will this Bootcamp give you the results you're looking for?
Yes! The result of our work is an approach to marketing your services that, as you implement it very quickly AND over time and with your dedication, works consistently to attract all the clients you need.

What results can you expect?
You can expect to:
Hone in on the EXACT clients or patients that will pay you what you're worth, get great results and send you referrals
Create a compelling marketing message that will make your ideal client say, "Wow, that's exactly what I need, can I have your card?"
Make your service stand out in your industry and in the marketplace
Have created a Client Attraction strategy within the first three months
Get proven ways of educating your environment so more than just your clients are sending you referrals
Set rates that sell
Create packages and programs so your clients stay longer and get better results, write you compelling testimonials, and have you make more money
Learn how to handle your clients (and your time) more efficiently so you actually have time for MORE clients and more revenue
Get out there and network effectively (for once)
Reach your ideal clients in large numbers and inexpensively
Work smarter at building your practice, not harder
Close the sale without ever feeling sales-y
Become an expert in your field (and be perceived, and paid, as such)
Create new goals for your business every 90 days to keep pulling yourself into your future as opposed to pushing so hard
Stay accountable to these goals and achieve them
Set up referral systems
Create power referral partnerships and strategic alliances
Get proven techniques you can apply right away to not have to reinvent the Client Attraction wheel on your own
Receive specific tools for you to use: "just add water"
Create greater exposure and visibility for yourself and your practice
Learn time saving techniques that will dramatically cut down your learning curve
Make more money than you're making now, while enjoying being in business for yourself even more than you're enjoying it now
Implement systems so you consistently market your services easily and can finally stop struggling to get clients, for good.
How quickly can you expect these results?
Obviously, this depends on how long you've been in business and how much you put into the assignments that I give you, whether you show up for the calls, ask questions, and do your assignments. (That's true of everything in life.) That said, virtually all clients see results within the first couple of months, sometimes first couple of weeks, in the form of new clients or new prospects, clients who stay longer, more revenue, turning more prospects into paying clients and more referrals from these clients.
How can you guarantee that you'll get more clients, in record time?
Do all of your assignments and fieldwork. Be totally focused on Client Attraction during the time of our Bootcamp. All my clients who have diligently applied every step of The Client Attraction System® have successfully grown their businesses, in much less time than they would have on their own AND have made more money than they've made doing what they do.
Will you recover the investment you put into this coaching program?
Yes, a resounding Yes! Many clients are excited to report that they were able to cover their investment often with only one new client. I want you to stop reading for just one moment to ask yourself, "What is a new client worth to me, and what is the average revenue I make from the lifetime of that one client?" Chances are, that amount will more than cover your coaching investment in this Bootcamp. Most likely, you will make 10 -20 times what you invested in this program in the next year alone. The information and skills you learn with The Client Attraction System® will net you 100 times what you invest in the next 10 to 20 years…something to think over.

This is just too good to pass up, and believe me, I'm not doing this program again. It's a one-time thing.

That said, this Bootcamp will completely transform your marketing, your business, your finances and your life in just 10 weeks, especially with someone like me fully supporting you and making it happen with you.

Or, you can continue to struggle on your own. The choice is yours.

I hope you can see I've compiled this information in such detail and a foolproof step-by-step format that it's SUPER EASY TO IMPLEMENT. There is really NOTHING else out there like my Client Attraction Bootcamp!

But if you're still skeptical, I understand. After all, this may be the first time you've really heard of me or heard about this program. So, to make you feel as confident as I am, I'm putting my money where my mouth is, by offering you...
My Personal "Make-You-Happy, Money-Back, All-the-Risk-Is-On-ME" Guarantee

It's got to be the best, step-by-step system you've ever seen for attracting a LOT more clients, making more money, working LESS in your solo-preneur business...



AND my strategies must put an additional $5,000.00+ in your pocket this coming year — or I'll pay you your money back.
I'm 100% confident that my Client Attraction Bootcamp will be the most targeted, most complete, most fun, and most useful marketing audio training you've ever seen for coaches, consultants, speakers, healers and solo-preneurs. More than that, I'm confident that if you employ all the strategies, techniques, and resources I share with you, you'll add an extra $5,000.00 (minimum!) to your bottom line over the next 12 months!
I'm essentially guaranteeing you close to a 20X RETURN on your investment, or you can ask for your money back.
So if for some reason my system doesn't meet your expectations, or my strategies don't produce the results you were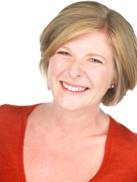 looking for within one year, just notify my office, show us what you've implemented, and ask me for a prompt refund up to one full year of your purchase, and we'll be happy to refund you.
That's my promise to you.


If you're ready to commit, you must act FAST!

You've got to take action right away, since we expect this to sell out within days (it always has in the past, even when we charged $1095 for it.)

I'm so excited to work with you!

Love and hugs to you,
Fabienne Fredrickson
Your Client Attraction Mentor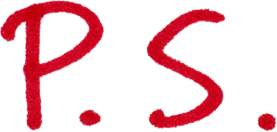 Close your eyes for a minute and take a slow, deep breath. Imagine yourself one year from now. Are you still struggling to get clients in the door OR are you attracting ideal, high paying clients quickly and consistently? This Bootcamp is your way to do just that, at a price that's unheard of. Or, a year from now, will you wish you'd started this today? The choice is yours. Don't let clients continue to slip through your fingers; reserve your Bootcamp spot before they sell out:



You've heard the saying, "the definition of insanity is doing the same thing over and over again, and expecting different results." If you're ready, take the first step to success and join us.


1 EZ payment of $97 *

* 3 additional $97 payments made for the next 3 months. Cancel at any time by emailing us at
info@clientattraction.com
or call us at 866-RAINMAKER

Legal Disclaimer: Every effort has been made to accurately represent our program and its potential. Any claims made of actual earnings or examples of actual results can be verified upon request. The testimonials and examples used are exceptional results, don't apply to the average purchaser, and are not intended to represent or guarantee that anyone will achieve the same or similar results. Each individual's success depends on his or her background, dedication, desire and motivation. As with any business endeavor, there is an inherent risk of loss of capital and there is no guarantee that you will earn any money.