How to Make Your Emails Exciting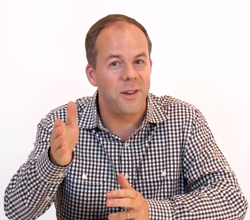 I have a question for you: how many emails do you receive in your inbox each day? Is it a few? A couple dozen? Maybe even a couple hundred?
If you saw my email inbox (and I'll be totally honest with you), you'd see that I only receive about 10-15 emails a day… to my inbox. Don't get me wrong – I receive hundreds and hundreds of emails each day, but I am selective about which appear in my inbox.
Email marketing is almost ALWAYS about giving a call-to-action. (Click here to tweet this.)
When I receive those 10-15 emails, I eagerly open them, happily read them and usually engage further by clicking through to see more, whether to an article, video or offer. I love receiving these select emails. How about you? Which emails do you actually love, or even look forward to, receiving?
Whoever is sending you these emails must be doing something right, and it's time you do the same. As a business owner or entrepreneur using the power of email marketing to get out your message, you need to ask yourself if your emails are exciting to your readers. Are they compelling and engaging? Do they generate behavior and inspire action? If they're anything like the majority of emails out there, they probably are not exciting enough.
In this week's video strategy, I give you six secrets to writing exciting and interesting emails. Are you ready? Watch below to discover how you can make your emails more exciting, and ultimately generate more sales as a result.
Your Client Attraction Assignment
Keep these six simple techniques in mind when writing your next email and you will find that your email subscribers are not only excited to read your next email, but you will end up generating more sales. The more compelling your email content, the more likely your subscribers will be to follow your call-to-action.
And don't worry – you don't need to implement all these strategies at once. Take it one step at a time by trying a single technique and seeing how the response works for you. Until next time, Happy Client Attraction!