How to Launch a Product Using a Tele-seminar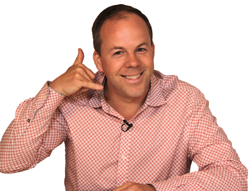 One of the marketing strategies that Fabienne and I teach many of our clients and students is the concept of using a product launch to help sell more of their products and services. It's an essential strategy for getting your product out to the masses.
More specifically – we teach them exactly how to use the technology and tools that are available to achieve maximum sales when it comes time to get their product out there for sale. By product I'm referring to any program, service, event, etc. Really, anything that you want to sell to your network.
Use a compelling and authentic teleseminar to launch your product out to the masses. (Click here to tweet this).
Why? Well, imagine this. You've spent all this time and effort to create this amazing product with all the value and benefits you know your prospects need and want – including extra bonuses and goodies – and you post it to your website under the shopping cart – and then you expect the orders to flood in. But they don't, do they?
Instead you hear crickets… So you decide to email your list about it and you just say, "Go buy my new product. It's all great and here's what it'll do for you and more…" Maybe you get one sale? Or a few sales? And more crickets…
It's because you don't have a launch! A launch is an essential vehicle to get the word out about your offer. It creates excitement and buzz in the marketplace where people are excited and interested in what you have to offer. In addition, when done correctly, using the teleseminar approach – you can create heightened motivation to the point where many, many prospects are excited to purchase your product! Doesn't that sound better than… crickets?
Watch this week's video for my 3 simple strategies on how to use teleseminars to launch your product for maximum sales.  You'll then be able to map out your launch, pick a date and start promoting!
Your Client Attraction Assignment
Ask yourself: how can I use a tele-seminar product launch for selling more products, programs or signing on more clients? Then, following the 3 steps I've shared with you, map it out, pick a date and start promoting it!