The "Cash Injection" Model: Creative ways of bringing in "Quick Cash" in your business right now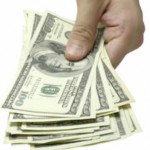 Entrepreneurs are known to have LOTS of ideas, a constant flow of ideas, but not always the means of making them happen. Sadly, so many of those ideas just stop there. But what would happen if you could quickly transform your big idea into a bucket-loader of cash–directly into your bank account. On this unprecedented teaching call, my good friend and Internet Marketing genius Tellman Knudsen and I discuss a creative grass-roots movement for quickly bringing in the financial-resources you need right now, especially if you're an Entrepreneur, Inventor, Creative, Writer, Author, Musician, or anyone with a ton of great ideas who wants to get paid what they deserve for all their "hair-brained schemes", as he calls them. Need to bring in quick-cash right now? Then don't miss this never-before-done call! It may just change your life!
This call is ONLY for Inner Circle members. Not a member yet? Join now to access this call with Fabienne's FREE 2-month Membership trial (plus a small shipping/handling fee).