Celebrating with my new high-level Sapphire client, Tina Forsyth. She really gets the Power of Association and is up-leveling her business, big time!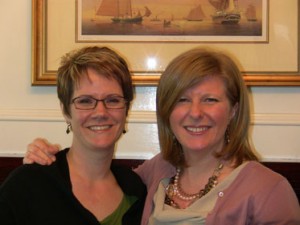 This week, I had an amazing half-day strategy session with my Sapphire level client, Tina Forsyth of www.onlinebusinessmanager.com. Tina flew in with her own Online Business Manager (and even Skyped in her husband) for a powerful big vision, strategy and implementation in-person meeting at my home. We spent our time mapping out the entire plan for multiplying her existing successful business (and launching another lucrative business) to have her reach 7 figures within the next 12-18 months. She walked away knowing exactly what to do for the next 6 months, including a detailed timeline. She was thrilled! The great news is that Tina's alreadyearned back her entire coaching investment in just two months of our working together. (How's that for ROI?) We then celebrated with wine and a 4-course chef-prepared private lunch at my home. Delicious!
Tina is the perfect example of a successful entrepreneur who strategically seeks out massive, high-level guidance and support to reach the next BIG goals she's set for her business–and her life. It's all about understanding and using the 'Power of Association'. We all need to work with others who can show us the fastest path to increasing our own business, no matter what level we're in, even when we're just starting out. What about you? What high-level support are you getting for your own business? Are you using the Power of Association to reach your own big goals. I describe how crucial this is in my brand new video that explains it all. Watching it can be the first step in finally getting the results you want for your business and soaring.
Which reminds me, after you watch the video I posted above, take a look at my Facebook page to see some other success videos I've posted over the last week from my Gold and Platinum clients. Truly inspiring. You've got to watch them…