At my 'Get More Clients' 2-day workshop last week, teaching the "exactly-how-to" method of signing on clients consistently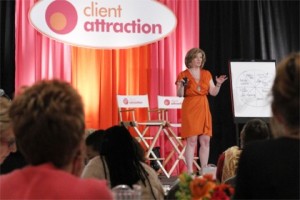 Woohoooo!! Last week was my live 'Get More Clients' workshop, held in Stamford, CT. I was so honored to be in the company of 200+ heart-centered entrepreneurs who have made it their mission to play really BIG in their businesses by reaching more prospects, getting more ideal clients and sharing their gifts and talents with the world.
I was really inspired by the amazing energy that pulsed through that grand ballroom for those two days. The attendees had such enthusiasm for my content and passion for what they do, that it all touched me on such a deep level. In return, my goal was to give them so, so much, and from the overwhelming feedback I received, we succeeded… giving them practical tools like scripts, templates, sequences, resources and cheat sheets to follow, along with demonstrations, hot seat makeovers and sharing the success of others who've applied these techniques.
And of course, let's not forget the cocktail party, the dancing, bonding and networking that we did as well! It was truly a memorable event for me. And now, I'm excited to start working directly with the attendees who are joining me for continued teaching, masterminding, access and support through my Winners Academy coaching programs. How about you? Are you ready to get the support and coaching you need to take YOUR business to the next level? Be on the look out for a special announcement from me this week, along with a sneak peek of exclusive video footage taken at the event. Stay tuned…

Oh, on another note, I just got word last Thursday that ClientAttraction.com is officially in the running for the 2011 Inc. 500 list of the fastest-growing private companies in the United States! I was literally jumping up and down when I got the news! Cross your fingers with me until July…