A day of shopping with my stylist in New York City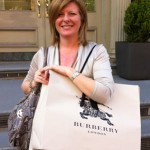 More than ever before, I've realized that the image you project—your personal style and brand—is critical to how your prospects and clients view you and what you offer. Your personal style actually affects what kind of clients you attract and whether a prospect will decide to work with you or not. In fact, whether we realize it or not, we are silently being evaluated within seconds, and our outward appearance is a huge part of it. By paying close attention to the personal image I portray with my prospects, clients, the media and the world, I'm sending out a message of confidence, quality, success and that I'm an advancing person. (So are you.)
That being said, as I grow to new bigger levels in my own business, I want my "look" to reflect my values, my message, my brand and who I am not only as a person, but also as a successful entrepreneur and businesswoman. So, although I've paid attention to my appearance over the years, especially on stage and at conferences, I've recently made a commitment to upgrade my own image even further, not just for my clients and prospects, but my staff, the media, my friends, my husband and my family. Interestingly enough, I've realized that a recent upgrade has made me come back to who I really am (especially after 3 children). Here's what I've learned: It's better to have just a few very high quality pieces that you mix and match into several "looks", than a closet full of cheap-y looking stuff. You want to look "super successful", even if you mix high-quality pieces with more affordable basics.
It all matters, so this past week, I went on a New York City shopping spree with my own stylist. After a full day "closet edit" where we tossed 70% of things that didn't look right or fit right, together we stormed Manhattan this week dropping in to boutiques to try on pieces she'd pre-selected and had held for me. After hours in dressing rooms, we selected just the right clothing, shoes and accessories that not only make me look great—but also make me feel amazing! (I hope this inspires you to take a look at your own outward image and perhaps take a step to upgrade just a bit what you have, even if it's one small step at a time.)
Oh, one last thing before we move on to this week's Client Attraction article. Take a minute to watch my newest video success tip all about the power of positive expectation. I give you a little behind-the-scenes peek at what I've posted on my office wall to look at all day, every day…and why I want you to do the same. Hope you enjoy it!