On the set of Lifetime Television's The Balancing Act!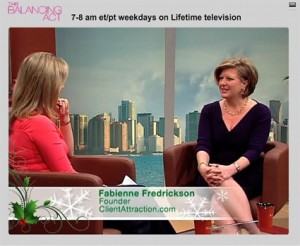 Woohoooo! This week marked my national television debut! Just recently, I was asked to be interviewed on Lifetime TV's The Balancing Act to discuss important aspects of business building for women and the similarities between running a successful business and a family (hint: SYSTEMS and MARKETING!) My kids LOVED seeing their mommy on TV and even seeing glimpses of themselves on the show. They were so cute about it! Thank you for all the amazing feedback and your kind words of support and love. It means the world to me.
As you know, I believe that to achieve big success in your business, you must be willing to play a bigger game, and continually stretch past your comfort zone. For me, that means going full throttle this coming year with more media, bigger speaking opportunities, more prominent joint ventures and more online visibility – all so we can reach so many more people who need my help. This past year, I set the intention to make 2011 a HUGE year of exposure for my message, and the opportunities have already started showing up in my life. It's a really exciting time – and I'll continue sharing it all with you to inspire you to do the same.