Being interviewed for a documentary on successful women in business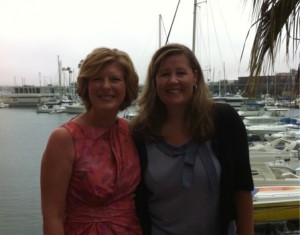 I flew to California last week to be featured in a documentary on women who've become highly successful by taking their businesses online. It was a fun adventure, with hair, makeup, and a close to 3-hour interview in my suite at the Ritz Carlton. Director and producer of the film, Kim Doyal, was great to work with. In fact, I was really touched that she was literally moved to tears by some of the concepts I was sharing on film about our duty as entrepreneurs to get our message out there in a big way. It's tentatively titled Women In Business 2.0. Can't wait for you to see it. I'll let you know when it's out.
While in Los Angeles, I hosted a Coaching Intensive in my suite, where a small handful of yummy entrepreneurs joined me in-person for a full day so I could tweak and transform their businesses for profitability, get clarity on their marketing message and positioning in the marketplace. In fact, for ALL of them, I actually took over and mapped out their marketing plans for them (they made me autograph the flip charts of each of their plans!), including their programs, packages and rates, proprietary systems and signature talks. We laughed a lot, made full use of the flip chart, and even made one 'tough cookie' tear up and lose her breath when I changed her business right in front of her eyes in about 2 minutes, including a new domain name, and plan for easily making $120,000 in her first year in business. (We shot some videos afterwards of them sharing their experience with me so you can feel like you were there with us. I'll be posting them on the Coaching Intensive site in the next few days.) These are so fun for me, and create such great results so quickly, that I'll be hosting another one soon on the East Coast. Watch here for upcoming dates.