All decked out in red, white and blue for our little 4th of July parade!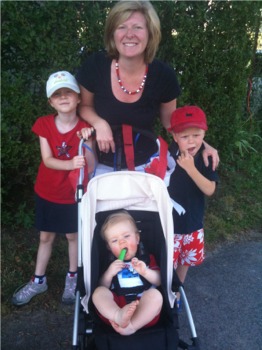 Last weekend was possibly one of the best weekends of my life! Friday night started with a bang having our traditional Friday Night Pizza At The Beach with our friends and their children (the kids play on the large swing set or by the ocean, while we watch on, talking, sipping wine and chilling out watching the sun go down.) Saturday was a glorious day at the beach with the kids, before our good friends arrived from New York for the annual Clam Bake at the club. Imagine the dock filled with blue and white checkered tables, a Key West band going, having a rum punch by the water, followed by 3 pound lobsters, steamers, shrimp, New England clam chowder, and late evening fireworks over the water. It was heaven!
The next day, we had our annual 4th of July parade and potluck brunch at the beach, before heading out for a day at the pool with the children and our guests. We hosted a group of friends for an alfresco dinner at home, and repeated it all the next day. I was seriously blissed out the entire weekend! All I kept thinking to myself was, "Is it really possible for one person to take in so much abundance and love at the same time?" I guess the answer was, Yes. I am so grateful for my life, to get to serve from my heart in a big way and I am grateful for you too. I hope you had a great weekend too!